Arsenal should be proud of surviving tough group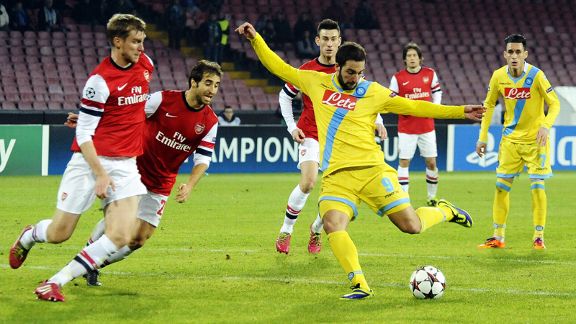 APGonzalo Higuain fires home to put Napoli 1-0 up against Arsenal.
This was a strange night for Arsenal -- one in which they tasted a 2-0 defeat at the hands of Napoli, flirted with disaster, and yet ultimately emerged with a considerable degree of success.

Heading into the match in Naples, the permutations were somewhat perplexing. Arsenal were in the unusual position of having acquired 12 points without yet guaranteeing qualification from the group stage.

The Gunners faced the unnerving prospect of a 90-minute walk on a tightrope. Make it to the other side without defeat and there was the tantalising prospect of emerging from the supposed group of death in first position. However, a Dortmund win and a three-goal defeat for Arsenal threatened to see Arsene Wenger's team tumble in to a grueling and unwelcome Europa League campaign.

Before the match, Wenger talked with confidence about going out to win the game. However, his team selection suggested his outlook was somewhat more conservative.

Mathieu Flamini was brought in to replace Aaron Ramsey at the heart of the Arsenal midfield. His experience and energy was clearly intended to nullify Napoli's attacking threat.

In a televised pre-match chat with Thierry Henry, Wenger admitted he had toyed with the idea of handing Theo Walcott his first start in almost two months. Ultimately, Wenger opted to field Tomas Rosicky on the flank instead.

Rosicky is one of Wenger's most trusted lieutenants -- his use of the Czech midfielder is somewhat akin to the way Sir Alex Ferguson consistently employed Park Ji-Sung in Manchester United's biggest games. However, although Rosicky brings immaculate technique and plenty of industry, he lacks Walcott's explosive pace. Arsenal were set up to contain rather than counter.

The first half went very much to plan for Wenger.

Napoli, needing at least three goals to be sure of progression, started fast. However, Arsenal showed great composure to cope with the early pressure. After 25 minutes, the Gunners had enjoyed 60 percent of possession, silencing the usually raucous Neapolitan crowd.

At halftime, both games in the group were tied, and Arsenal were due to be group winners. The Gunners' progress seemed set to be surprisingly serene.

However, whether due to Arsenal's complacency or Napoli's desperation, the second half was an entirely different affair. Arsenal were unable to retain possession, and belief began to course through the Italian team.

After 73 minutes, Napoli took the lead. The scorer, somewhat inevitably, was Gonzalo Higuain. The Argentinian was extensively linked with Arsenal prior to moving to Italy, and with his neat turn and finish, he showed the Gunners just what they missed out on.

Initial anxiety among the Arsenal fans morphed into panic when Mikel Arteta was dismissed shortly after. The warning signs were there when Olivier Giroud was harshly booked for playing on when offside: referee Viktor Kassai was perfectly prepared to dish out yellow cards. Arteta, who had been booked in the first half, was sent off for a late challenge in the 75th minute. Incredibly, it was only his second foul of the entire game.

Suddenly, the entire nature of Arsenal's task shifted. A game that had been about securing top spot became about ensuring survival.

A stoppage-time goal for Jose Callejon had Arsenal hearts in mouths, but there was no time for more drama. Shortly afterwards the referee blew the full-time whistle. Arsenal had qualified.

As the game drew to a close, there was a curious atmosphere around the Stadio San Paolo. A late Dortmund goal in France had robbed the Gunners of first place and Napoli of progression.

The Naples outfit could be proud of their victory, but had to face up to elimination from Europe's elite competition. Higuain had made his point, but ended the night in tears. As for Arsenal, a somber defeat was tempered by the prize of qualification.

Although it's disappointing to lose any game, Wenger and his team ought to be proud of having successfully navigated an extremely difficult group. Few gave Arsenal a chance of reaching the knockout stages when the draw was made. Just as in the Premier League, the Gunners have proved the pundits wrong.

Of course, missing out on first place remains a blow. Arsenal now face a daunting draw against one of Real Madrid, Barcelona, Bayern Munich, Atletico Madrid and PSG.

All five teams are outstanding and would provide a serious test of Arsenal's European credentials.

However, surely half the point of being in the Champions League is having the opportunity to pit yourself against the continent's finest. If Arsenal hold realistic ambitions of lifting the trophy, they'll have to play these teams at some stage. Why not now?

Arsenal have already proved people wrong by surviving the Champions League's most treacherous group. Who's to say they won't overcome the odds once again in the knockout stages?