The Bould and the beautiful at Arsenal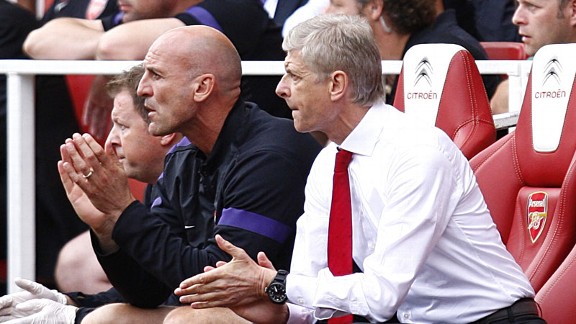 PA PhotosSteve Bould replaced Pat Rice as Arsene Wenger's assistant.
There was ill feeling after Arsenal went out of the Capital One Cup to Bradford in December of last season. That was exacerbated by a February defeat to Blackburn in the FA Cup, before Bayern Munich came to the Emirates in the Champions League a few days later and ran amok, winning the game with ease.

Although Arsenal won their next game against Aston Villa, their defensive brittleness was on show at White Hart Lane when poor decision-making, positioning and awareness -- the basics, essentially -- cost them two goals and the game.

With their next game the return trip to Munich to face the best team in Europe, it didn't look good for Arsene Wenger. Pressure was building, discontent was apparent and it was hard to see how things could change. But change they did.

- Cross: All eyes on Wilshere

Out went skipper Thomas Vermaelen, whose performances had been consistently below par, and goalkeeper Wojciech Szczesny, who looked comfortable and complacent. It's overlooked what a huge risk the Arsenal manager took by bringing in Lukasz Fabianski, a man who hadn't played in over a year. Had he been rusty and made a costly mistake, Wenger would have been pilloried.

The other change was more fundamental. Instead of sending his team out to try to win the game -- which has been his philosophy for so long -- they were tasked with not losing. An early Olivier Giroud goal helped matters, and a late Laurent Koscielny header put them within a goal of going through, but it was backs-to-the-wall stuff for the most part.

There was a renewed team focus on the defensive side of the game, and the first commandment -- thou shalt not lose -- was something they took with them right through until the end of the season when they secured a top-four finish yet again, with Tottenham the victims once more.

That defensive platform is still present this campaign with a back four and goalkeeper that looks solid and reliable. However, they've used it to re-enable the attacking side of their game, and perhaps it shows us that after a difficult start Wenger and assistant Steve Bould have found a way to work together.

Last season various pundits took great pleasure in proclaiming, with little evidence it must be said, that Wenger refused to let Bould influence the team, in particular its defensive set-up. Even if there were some truth to it, it was rare that anyone ever stepped back to look and examine things in any detail.

Wenger -- an idiosyncratic manager at the best of times, and someone who has kept many of the same staff since his arrival in 1996 -- had been used to working with Pat Rice. They had a well-rounded relationship, and friendship, which worked easily for both of them. Rice's retirement meant finding a new number two, and that takes some adjustment.

The manager's right-hand man, somebody he can trust, rely on, turn to during games and depend on is an important position. Although Bould and Wenger were hardly strangers, it does take time to adapt to working with somebody new. If there were teething troubles, it's hardly a unique occurrence in any line of work, least of all football.

But now it seems as if they've put those behind them, and it's perhaps telling that Arsenal's weaknesses are perceived to be at the top end of the pitch rather than at the back. For years there have been calls for new defenders or a new goalkeeper; now if you asked any fan what kind of player they wanted the club to sign, I'd suggest 99 percent would say a striker.

Bould was a fantastic defender in his day, almost overlooked beside the inspirational Tony Adams and more manic Martin Keown. He was a great reader of the game, and a steely, hard-as-nails presence at the heart of the Arsenal defence. It's not difficult to see those qualities in both Per Mertesacker and Koscielny, the club's first choice pairing in that position.

It feels like it's been a long time coming, that soft centre was exposed too often, and now, combined with the array of attacking quality Wenger has at his disposal, it's little wonder people are starting to talk about Arsenal as genuine title contenders.