Arsenal's strengths and weaknesses exposed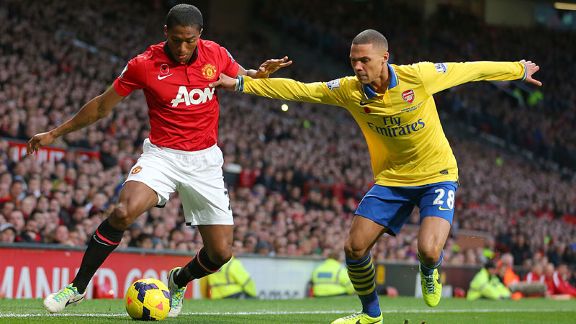 GettyImagesKieran Gibbs and Manchester United's Antonio Valencia battle.
Sunday's highly-anticipated clash at Old Trafford had no pizza-gate or battle of the buffet. But while it lacked the fireworks of previous encounters, Arsenal's trip to Manchester United was still very instructive.

It showed us that United, even under David Moyes, have not gone away and will still be in this season's title race.

But it also showed that, judging on Arsenal's second half showing, they are a force to be reckoned with. Their possession football, heavy pressure and entertaining passing game will ensure they last the pace.

- Cox: Moyes' match-winning plan
- McNicholas: Missed chance to make statement
- Okwonga: Jones' value goes beyond numbers

However, Arsenal's weaknesses were also there for all to see. When they needed incision and a cutting edge up front, the only man they could turn to was Nicklas Bendtner.

The Gunners also needed pace down the flanks to stretch Manchester United and to play effectively on the counter attack. Injured England winger Theo Walcott cannot come back soon enough. Arsenal have missed him greatly in the past few weeks.

But generally, Arsenal look a sound, solid unit. Thomas Vermaelen returned to the defence and although the goal that made the difference in this match was not his fault -- he played well on his return to the starting line-up -- had Per Mertesacker been fit then surely he would have beaten Robin van Persie in the air.

Similarly, it also told us that Arsenal must sign up Bacary Sagna to a new contract. His forays forward from the right and teasing crosses were Arsenal's biggest attacking threat.

Mesut Ozil was painfully quiet, to the point of wondering why on earth Arsene Wenger did not substitute him to make way for someone far more effective.

Santi Cazorla was subdued and Aaron Ramsey, stuck on the right, struggled to find his recent form. He did not look like adding to his 11 goal tally this season.

But the brutal truth was that Arsenal were lacklustre up front. Olivier Giroud has been outstanding this season, playing virtually every game, scoring, providing assists and also doing a terrific all round job for the team.

But after a gruelling and hectic fixture list, the games had clearly taken a toll on Giroud, who struggled to be as effective at Old Trafford as he has been in recent weeks.

Giroud also needs service of course. And there was not much of that on offer, certainly no service from the flanks.

But more importantly, Giroud needs proper back-up, competition and a striker to complement his game. Perhaps more of a natural finisher, a poacher, a smaller striker with more pace and movement.

You cannot win a Premier League title or maintain the Champions League challenge with just one striker.

Sadly, Bendtner -- with his rather lame late attempt to get on the end of a cross for an equaliser -- is none of those things anymore.

It means that Wenger will have to dig deep in January to go and find another striker. It's never an ideal market. But Arsenal need someone to give them a turbo boost.

After all, imagine if they had Luis Suarez feeding off Ozil's through balls. They'd be streets ahead by now. The Gunners are unlikely to get Suarez now but a natural finisher of the like of Javier Hernandez, or the addition of Karim Benzema, would surely improve their squad.

If they can gain another dimension in January then Arsenal showed enough at Old Trafford -- despite the defeat -- to suggest that they can be genuine challengers.