Bendtner needs to get real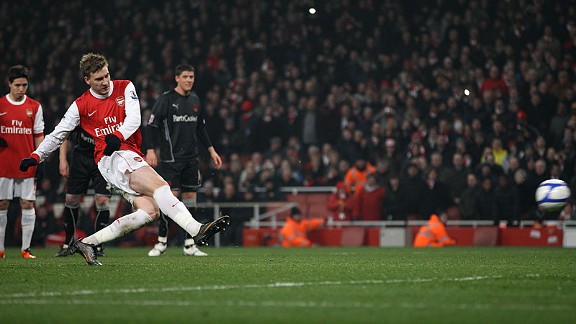 PA PhotosNicklas Bendtner's last league goal was on April 28, 2012.
When a football club announces it's in "advanced discussions," it's usually quite confident that a deal can be done.

So, when Eintracht Frankfurt told the world the following -- "Danish player Nicklas Bendtner and his advisors held final talks with Eintracht Frankfurt on Tuesday, 9 July 2013. Sports director Bruno Hubner has been in close contact with Arsenal manager Arsene Wenger and a final decision regarding the purchase of Bendtner should be taken in the next two days" -- the German club had a reasonable expectation that they'd sign the player.

- Bendtner deal falls through - reports

The Danish media even reported that Arsenal would contribute something to his wages for the first year in order to facilitate a move. In other words, the Gunners were willing to go above and beyond the call of duty to get rid of a player they've been unable to shift for the third summer in a row.

In 2011, he was on the market and ended up at Sunderland on deadline day. Last summer he had months after the Euros to find a new club, and in the end it was a last-minute move to Turin and Juventus. And this time around it's been the same, despite him saying he'd join his new club inside two weeks, we're a month further down the road.

The latest we have is that Frankfurt have pulled out because of Bendtner's wage demands and are turning their attention elsewhere. It's possible they might go a bit further, or the player himself might lessen his demands, but all the evidence points to the Dane being a difficult man to please from a financial point of view.

The reality is that Arsenal have him on the market for a price far less than his talent, somewhat stifled as it is, and have been trying hard to sell him for the third year in a row. This year more than others. They're willing to supplement his wages, yet deals keep breaking down.

While he seems to have accepted that the top-tier clubs just aren't interested in him because of how far his stock has fallen, it doesn't appear as if he's taken into account the fact clubs below that level can't pay Champions League wages.

Arsenal certainly have to take some of the blame for giving him the kind of contract that is hard for lesser clubs to match, but Bendtner has to ask himself if he's more interested in earning money or playing football. If he went somewhere, played regularly and did well he's young enough to get himself a transfer to a bigger or better club, but he seems unable to view the bigger picture.

His wages should reflect what he's done on the pitch in recent times, not what he thinks he's worth. And when you consider his last league goal was on April 28, 2012, it's little wonder clubs are cautious about what they offer.

He has to accept that there are ups and downs in the careers of most players and he's very much in a down period. He was never good value for what Arsenal were paying him, but the policy at the time was to gamble on potential. It was one that didn't pay off for Arsenal, only for the Dane's bank balance.

If he continues to price himself out of reach of most clubs, he's going to find himself in the doldrums for even longer. He has to take some short-term pain for longer-term gain. It remains to be seen if he's going to realise that.