All set for an excruciating final day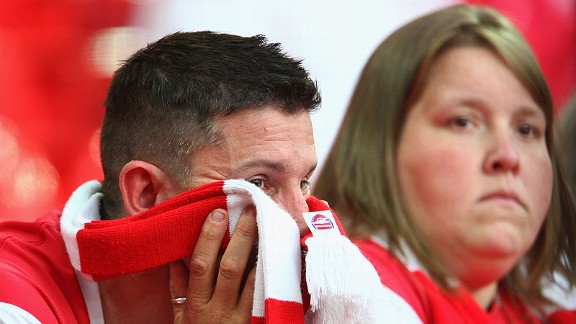 Phil Cole/Getty ImagesShould Arsenal fall behind early against Newcastle, fans of the Gunners will be in for some very nervy moments.
As Arsene Wenger prepares his team for the final Premier League game of the season, he revealed a masochistic streak in his press conference.

Asked about the Newcastle game and its implications, he said, "Sometimes you think it would be nice to have a game with no pressure, but when you have one you think, 'let's get it back, it's so boring'.

"What would be terrible would be to go to Newcastle and have nothing at stake for us. We have what we wanted so let's just finish the job."

- Wenger: Gunners will secure UCL spot

I suspect that there are many Arsenal fans who would disagree with the manager and who would prefer to be going to St James's Park with little at stake. Even if it didn't mean Arsenal were champions, it would be better for everyone if Champions League football had already been secured.

It's impossible not to think of last season's remarkable game at The Hawthorns against West Brom. Arsenal took an early lead, let it slip to go 2-1 down, and when Laurent Koscielny put them 3-2 up with 35 minutes, plus stoppage time, still to play, it meant a nerve-wracking, toe-curling, hair-greying, nail-biting, heart-palpating, stomach-churning end to the season.

Arsenal had to win, especially as Spurs were winning their home game to Fulham, and the anxiety and nervousness wasn't confined to the fans. At one point Wenger couldn't bear to watch. He clung onto long-time assistant Pat Rice and buried his head in the Northern Irishman's chest as the home side looked for the goal which would have meant Arsenal finished fourth and because of Chelsea's Champions League win, would have been bumped out of that competition.

A similar situation awaits on Sunday. If Arsenal win, fourth is the very lowest they'll finish. They could win and finish third if Chelsea lose. But if Spurs win and Arsenal don't, then it's the Europa League for Wenger's men next season. It promises to be another excruciating day of football.

I know what Wenger means. He's coming from the angle where this game would be meaningless, where nothing Arsenal could do would bring some measure of success to a season, but it's fair to say that over the course of the season, and looking at some of the points the Gunners dropped, it shouldn't be remotely this close.

The good thing is they have it in their own hands, knowing a win will suffice regardless of what others do. Spurs play a Sunderland side warned by Paolo di Canio that any lack of effort will equal lack of holidays, while Everton's players will want to send David Moyes off with a win, but the reality is that playing for pride doesn't really provide the same motivation as something more tangible.

Tottenham's players will be desperate to avoid the heartache they suffered last season. Chelsea will want to be back at Europe's top table despite their win that other competition nobody really cares about. Arsenal will have to contend with a Newcastle side that will be sent out by Alan Pardew to make good on his rather impolitic comments last weekend.

As their Premier League safety was secured, he declared he wouldn't care if his team lost 4-0 to Arsenal. He was clearly carried away with the moment, but the last thing he'll want us for his team to get beaten 4-0 by Arsenal. Their final home game of the season is one in which they'll want to give something back to their fans who have seen standards slip after such a promising campaign the previous season.

All of which is to say the games could go any way, for all of the teams involved. Arsenal need one more push, one more good performance. They have the quality and ability to win the game, but this is football and its unpredictability is part of why we love it.

Anything can happen... and probably will.