Arsene trying to strike a balance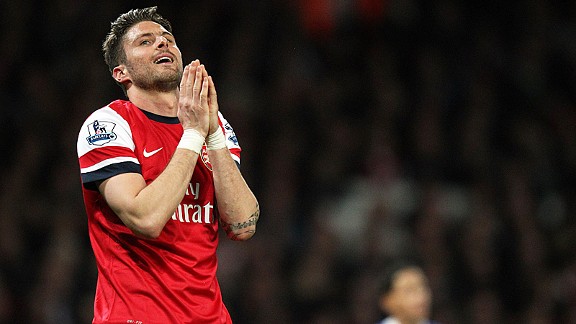 GettyImagesArsenal striker Olivier Giroud rues a missed chance against Everton
Through most of the season it appeared that Arsenal manager Arsene Wenger was unsure as to what his best starting XI was. To have a seemingly settled, balanced, team emerge during the Gunners improvement in form has been encouraging.

However, what was striking in Tuesday's 0-0 draw with Everton was that the balance in the Arsenal team had shifted out of kilter once again. As a result, the Gunners couldn't breakthrough a stubborn Toffees team. Arguably, Wenger has stumbled across a winning formula recently due to certain players being absent through injury, although now they are returning, team selection becomes more difficult.

- Mangan: Gunners held but may prove good point

Balancing attack and defence seems to have become a bigger problem in recent years for football managers across Europe, with a larger tendency for teams to have three central midfielders and only have the one striker. Having grown up believing that 4-4-2 was the only formation any team could play, 4-2-3-1 or variations of 4-5-1 are increasingly the norm, giving teams more of a focus on keeping the ball and often protecting the defence.

Mikel Arteta and Aaron Ramsey did a good job on Tuesday night of shielding Arsenal's back four, with Ramsey in particular standing out, again. It's often been an easy area of the team to criticise this season, but the Arsenal defence was impressive against Everton.

However, with two deeper-lying midfielders, it's often more difficult to commit men forward to attack because of the responsibilities they feel to defend. For both teams, lone strikers Olivier Giroud and Victor Anichebe were often slightly isolated as the game was bogged down with an intense midfield battle, albeit an intriguing one.

The other key part of the team to balance out is the flanks. It was particularly noticeable on Tuesday that until the introduction of Lukas Podolski, Arsenal's main focus of attack was on the right-hand side through Theo Walcott. With the Englishman still trying to play his way back into form, he struggled against Leighton Baines, one of the best left-backs in the league. However, as Arsenal's attacking dashboard from the first half shows, little was done to change it when Walcott was struggling to get any joy.

Giroud received no service into the box from the left-hand side as Santi Cazorla tended to drift inside to try and find the ball, meaning Everton were able to focus their defensive efforts on Arsenal's right and keep the Gunners compacted into that area of the pitch.

Cazorla has been performing well from the left, with Tomas Rosicky and Jack Wilshere filling the central attacking midfield position, but it was noticeable how much more dangerous Arsenal looked when the Spaniard was able to be the creative hub, dictating play from the centre, when Podolski came on to play on the left. Being able to stretch the opposition defence on both sides of the pitch is important when coming up against a team with a strong back-line, and Arsenal didn't do enough of it against Everton.

It does raise questions about whether Arsenal have too many similar players with the likes of Cazorla, Wilshere and Rosicky all vying for the central role, and whether a left-sided player is worth adding to the squad. Wenger has spoken this week about Podolski potentially filling a central striker's position, so there is definitely space in the squad for a player to come in to play on the left.

With more players available after injuries, Wenger has to try and get the balance back in his side between attack and defence, and between left and right, starting at Craven Cottage against Fulham on Saturday. With Wilshere still struggling for form, bringing Cazorla back into the middle and starting Podolski on the left could be key to doing that.

Fulham's usual 4-4-1-1 formation means that Arsenal will need a defensive midfielder to watch Bryan Ruiz or Dimitar Berbatov dropping off the main striker, but it should release another midfielder to move further up the pitch to support the play going forward. Those small tweaks could mean Arsenal finish an important week with a credible seven points.