Sharing the goal scoring burden at Arsenal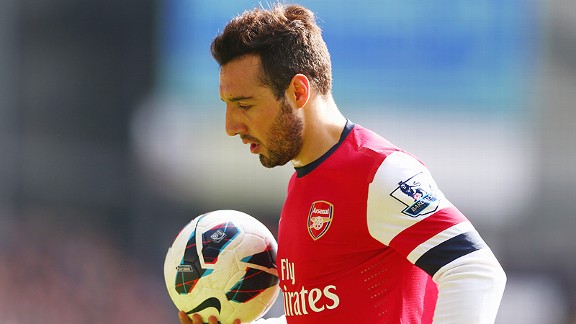 Michael Steele/Getty ImagesSanti Cazorla: Arsenal's top scorer in the Premier League, with 12 goals.
When Arsenal sold Robin van Persie, the club's chances of success in 2012/13 where doomed, according to common opinion. The departed Dutchman has certainly made the difference for Manchester United and although he's on an unusual goal drought at the moment, there's no doubting his part in their impending title win.

With Arsenal building a charge towards the top four, there is a strong sense of déjà vu from last season. On that occasion, Arsenal had van Persie leading the line. This season, Arsenal could still finish in a similar position, and with a similar number of points, as when Dutchman was within the ranks. So have Arsenal actually suffered up front without him?

- Dein confident Wenger will spend

There hasn't been anyone who has come close to the individual goal scoring that Van Persie achieved last season, however, Arsenal have been able to share the goals around. In the last Premier League campaign, the second top scorer was Theo Walcott with eight goals, behind van Persie's 30. This season, there are four players who have scored the same number, or more, than eight, with Walcott, Olivier Giroud and Santi Cazorla all reaching double figures.

The sharing of the goal scoring burden has been particularly evident in Arsenal's recent winning run. Since defeat to Tottenham, the Gunners have had seven different scorers contribute ten goals between them. Whereas Arsenal constantly looked to the one man last season, there are now more players who are capable of making a difference and stepping up when needed.

Arsene Wenger was criticised for not bringing in a direct replacement for Van Persie in the summer, but the signings of Cazorla, Lukas Podolski and Giroud have combined to compensate for the loss of goals from the Dutchman. However, this does touch upon a basic problem. Whilst Van Persie's goals were replaced, the overall number scored by the team hasn't been drastically improved upon.

The Gunners are currently averaging slightly more goals a game compared to last season (1.95 compared to 1.96), however that difference is so miniscule that it can't be argued that Arsenal have significantly improved that side of their game this season. Arsene Wenger's error was not strengthening further, effectively leaving Arsenal treading water rather than moving forward. The team need to continue to share the goals out for the rest of the season to get back into the Champions League. Then Wenger will have to build on the current squad and make that improvement next season.

One man that hasn't contributed to league goal scoring this season is Andrey Arshavin. It's safe to assume he won't be seen in an Arsenal shirt next year, if at all, before his contract runs out this summer. The rumours that emerged on Tuesday about him retiring at the age of 32 are sad, but not altogether surprising, considering his fall from the Arsenal first team.

For someone that added so much freshness to the Arsenal squad when he arrived, it's a massive shame that he hasn't fulfilled his full potential at the club, particularly during the years where he should have been at his peak. There was a chance the Russian could have gone to Reading in January, but reports suggested that Arshavin rejected that move. Regardless of whether it's at Arsenal or not, it's saddening to see a talent become disillusioned at playing the game.

Hopefully, as Arsenal strengthen their attacking options in the summer, Arshavin will be able to find his mojo somewhere else and not waste his talent.