Movie night at the Emirates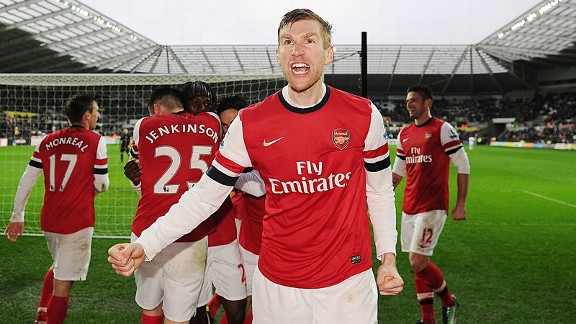 Stuart MacFarlane/Getty ImagesVideo sessions have helped Per Mertesacker and the Arsenal defense firm things up in the back.
Per Mertesacker revealed this week that the Arsenal players had taken to watching videos of their defending to help them put right the problems they've been having.

Stressing the point that watching footage is something they do on a regular basis anyway, the German said, "We saw ourselves as a unit on the television and I think it was a good thing to do because sometimes you have a different view on the pitch and you feel different."

- Walcott: Top four failure would be tragedy

Personally, I'd have liked this story more if Arsene Wenger had locked the players into a room and forced them to watch Twilight. When pressed as to how that might improve things, he could casually reply, "If they don't, I'll make them watch it again", but that might be just me.

The last two games have, on paper at least, shown an improvement in Arsenal's defending. In all honesty there is clearly more focus on not conceding. I'd like to say that finally the idea that defending is the job of the team -- and not simply the back four and the keeper -- has hit home, but we've been here before with the Gunners.

In the early part of the season they looked well drilled; the forwards were the first line of defence and there was an awareness throughout the side that they all had some responsibility. As the season progressed, however, that wore off. Runs weren't tracked, crosses not cut out, tackles not made, and Arsenal again looked like a team that could concede at any time.

The displays against Bayern and Swansea were encouraging, but they are baby steps on the way to solving this problem. Lack of consistency has been Arsenal's major problem this season. They haven't gone more than give games in the Premier League without defeat, and that's why the battle for a top four place is so difficult this time around.

Many of the players will go away to play with their countries as another inter-lull comes along at pretty much the wrong time. Having won their last two games and kept clean sheets in both, Wenger will have wanted the next game to come quickly, so he could try and build some momentum and use the confidence those last two results provided.

Instead, his team scatters far and wide. When they return next week, he has to remind them how those games were won. It might seem simplistic but it's little more than hard work and increased discipline rather than a huge tactical shift. And maybe it's not something that a manager should need to repeat -- it ought to be the default setting -- but Arsenal's players seem quicker than most to settle back into comfort zones.

---

Five movies Arsenal could watch to improve their defending

The Empire's right back

The Adams Family

Lehmanhattan

In-ter-ception

Dr. Strangelove or: How I Learned to Stop Worrying and Love the Offside trap

Ok, I was struggling to get five. Any others?