An Aaron Ramsey cat for the pigeons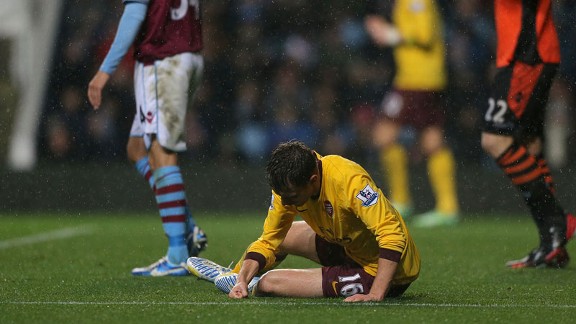 PA PhotosAaron Ramsey has underperformed since returning from injury, according to many Arsenal fans
At the end of the season, a lot of Arsenal players' positions in the squad should be under severe scrutiny from the coaching staff. There are numerous players who the fans believe shouldn't have much of a future at the Emirates, and one name that always pops up in such discussions is Aaron Ramsey.

As mentioned by fellow ESPN FC blogger Andrew Mangan, injuries to youngsters at Arsenal can significantly dent their chances of regularly making it into the club's first team. The same could have happened to Ramsey when he suffered his broken leg at Stoke in 2010. In the weeks leading up to that game, he was settling into the Arsenal midfield and had put in some impressive performances as a 19-year-old in a team that was chasing the title.

Now 22, many would argue that Ramsey hasn't hit the level of some of the performances he put in before his serious injury. To help regain form and fitness, he had loan spells at Cardiff City and Nottingham Forest during his recovery. He hardly dominated the middle of the park in the Championship, so for many Gooners it can be frustrating when they see him picked in the Arsenal midfield.

In recent weeks, Ramsey has been regularly selected for the big games. He featured at home to Liverpool and Bayern Munich, and was picked for the North London derby. For someone that many consider one of the worst central midfielders at the club, seeing his name on the team sheet for an important match does irk certain supporters.

I can see why people become frustrated at the Welshman's performances. For someone that cost £5 million as an unproven teenager, there was always going to be a lot of pressure on Ramsey to ultimately be a leading midfielder in the Premier League, something he is still a considerable way from achieving. He isn't as slick as the likes of Wilshere and Cazorla, often takes too many touches and can slow the game down in midfield. He doesn't have the wider vision and view of the game that the best passers have.

That doesn't mean that his appearance in the Arsenal team will bring an apocalypse though. If selected for the right games, Ramsey can be effective and do well in this Arsenal team. When he occasionally featured in place of the injured Arteta in the pivot role in midfield, we saw a tougher side to his game. When he was signed, he was thought of as more of a creative midfielder. With the improvement of Wilshere, Ramsey now can be seen as more of a grafter in the middle.

He hasn't necessarily been helped by his willingness to play in any position given to him. He's not cut out to be a winger, or a full back, but it's to his credit that he's attempted to play there with minimum fuss. I have an issue with Wenger picking him out of position, because while he's still learning his trade as a central midfielder, playing on the flanks won't help him.

I like Aaron Ramsey as he never hides during a game, something that has infuriated me about some Arsenal players in the past, and he has fought his way back from a career-threatening injury. Due to that, he is about a year behind in his development, so hopefully he will become the player people hoped he would be.

The key is for Arsene Wenger to select him in the right games. I don't think he's ready to consistently play in the big, high intensity games as his decision making isn't quick enough yet. However, if used as a central midfielder in matches that Arsenal are likely to dominate, he can make himself a worthwhile option to have in the squad.

It's harsh to make Ramsey a scapegoat after a poor team performance. Arguably, the fact he gets selected more often than some would like is endemic of the whole squad not being good enough. Others around him have had injury problems this season, so Ramsey has been called upon.

He seems to be viewed by Arsene Wenger as a safer option in midfield. Becoming more of a grafter in midfield should be viewed as him laying the groundwork for the rest of his career. The challenge for Ramsey is to build on that and improve his all round game to get fans back on his side. Patience from fans about all areas of the club is wearing extremely thin at the moment, but if they can remain patient with Ramsey, he can still have a good impact on Arsenal.