Is Abate a luxury Milan can afford to sell?
With Milan confirming the arrival of Cristian Zaccardo, speculation is rife that plans are being laid to accommodate the departure of Ignazio Abate. With rumours suggesting a move to Zenit is in the offing, are the Rossoneri building funds to acquire bigger targets?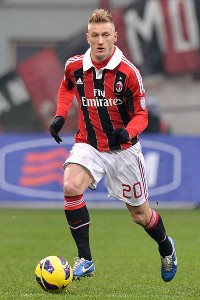 Tullio M. Puglia/Getty ImagesIganzio Abate hasn't quite lived up to his promise at Milan, prompting rumours about his future with the transfer market closing.
Still only 26 years old and arguably the first choice right-back for Cesare Prandelli's Italy, you'd be forgiven for assuming Abate to be an integral part of the side. Yet with the emergence of Mattia De Sciglio and the arrival of Zaccardo, is his place at Milan in jeopardy?

You could argue yes. Abate has been less prominent this season as he has drifted in and out of the starting lineup due to injuries and the form of his teammates. For all his gung-ho explosive runs up and down the right flank, his productivity is surprisingly disappointing especially considering the importance of his position to the team.

Forever being an option when things are too crowded and narrow through the middle is merely the bare minimum expected from Abate. Taking a closer look at his statistics and you'll find he has never scored for the club and on average contributes a couple of assists a season. Not overly impressive.

While he has the tactical and positional brain, his execution has often been lacking with his crosses rarely finding their intended target. He has, however, vastly improved defensively, but as an all-round right-back, does De Sciglio possess the ability to become better if he hasn't proved so already?

Despite being completely out-of-keeping with the new transfer strategy considering his age and length of contract, Zaccardo will provide both experience and versatility as he is comfortable playing anywhere across the back-line. In addition, he was evidently thrilled about joining Milan.

"I am very happy and it is an honour to be at such an important club. I will give everything to provide my contribution," he told Milan Channel after it was officially confirmed he had signed, with Djamel Mesbah and Rodney Strasser moving in the opposite direction to Parma.

The theory goes all this is part of a bigger plan in which the Rossoneri are raising funds for their primary transfer targets. A healthy transfer fee for Abate, coupled with the cheap acquisition of the 31-year-old Zaccardo, and suddenly Mario Balotelli and Kaka are the talk once more with Abate's agent letting us in on a secret.

A few days ago, Claudio Pasqualin told reporters: "We thank Zenit and Spalletti for their interest, but the lad will remain in Italy with Milan. If Zenit raise their offer, then maybe something will change, considering Milan are looking for cash to take Mario Balotelli."

Milan vice president Adriano Galliani maintains his belief that "no big signing will be made" before January 31, while Manchester City boss Roberto Mancini expects Balotelli to remain after reminding us he still has three years left on his contract.

So, if Zaccardo's arrival is the first step in an elaborate plan to offload Abate and therefore afford Balotelli, is it a sensible or ridiculous one? Earlier this month Galliani admitted negotiations for Zaccardo were no longer possible and Abate would not be leaving, so what do you believe now?

For all the latest Milan and Serie A news, you can follow me on Twitter @italiafooty