Jack Warner denies Franz Beckenbauer agreement ahead of World Cup vote
Jack Warner has denied that he made any agreement with 2006 World Cup hosts Germany following allegations against Franz Beckenbauer.
The German FA (DFB) this week said that, during its internal investigation into corruption over the voting to determine the 2006 World Cup hosts, it had uncovered a contract draft signed by Beckenbauer and Warner, who was among those participating in the vote in 2000.
Rainer Koch, one of two acting DFB presidents after the resignation of Wolfgang Niersbach, said Beckenbauer had signed the contract from "the German side" and Warner, who was then on FIFA's Executive Committee, signed it from "the CONCACAF side."
He added: "In this contract, various services, but no direct financial payments, are promised from the German side."
Reinhard Rauball, the other acting DFB president, said the agreement amounted to "attempted bribery."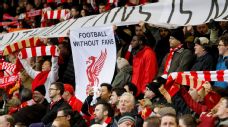 However, Warner -- who was banned from football activity for life in September -- denied any wrongdoing in statements to German media.
In an email to Sport1, he said that he has no "intention of joining in the circus of the international media, whose only objective seems to be demean and denigrate," and added: "Suffice it to say, however, that I have never, ever had any agreement of any kind with anyone involved with Germany's hosting of the 2006 World Cup."
On Tuesday, German tabloid Bild reported that it had obtained information from the FBI's files on Warner that showed a secret bank account named "LOC Germany 2006 Limited" at Trinidad & Tobago's First Citizen Bank.
Asked about the account and the bidding process, Warner said that he is no longer interested in unleashing the "tsunami" he had promised would hit FIFA in 2011 when he was provisionally suspended by the governing body only days before the presidential election.
"Regardless of the shabby treatment I received from FIFA, I have promised myself that I will not support this entertainment, which not only destroys the life of the men and women who have worked hard to make football the beautiful game but also the lives of their families," Warner told Bild.
The 72-year-old added: "In the dusk of my life I want to enjoy seeing the sun rise, listen to the chirping birds and admire nature, which has escaped me for too long. My story is my story and I refuse to be part of the crowd that brings pains and injury to the people I once called my friends."
Beckenbauer, who led Germany's World Cup organising committee and was Bayern Munich's president at that time, is also facing allegations over a series of friendly matches agreed ahead of the vote.
Bayern arranged friendlies in Malta, Thailand, Tunisia and Trinidad & Tobago, and the current president of the Maltese FA has raised serious questions over the match played in his country.
The Maltese FA received $250,000 for the Bayern game, although its then president, Joseph Mifsud, has told on ongoing court case that the sum was not "extraordinary" and that the money was "a present" from CWL, a Swiss TV rights agency for which former Germany international Gunter Netzer worked as an executive.
CWL also held TV rights to the other friendlies, although ultimately Bayern did not play the game in Trinidad & Tobago, citing time constraints.
According to reports in Suddeutsche Zeitung and Manager Magazin in 2003, Warner, of Trinidad & Tobago, and fellow former FIFA Executive Committee member Worawi Makudi, of Thailand, were contract partners of CWL.
CWL was owned by German TV giant Kirch Group, which held the broadcasting rights for the 2006 World Cup and in April 2002 declared bankruptcy, with Netzer and a group of investors -- including former Adidas CEO Robert Louis-Dreyfus -- securing the rights in a management buyout in October that year.
The following February, the company Infront -- which still markets FIFA broadcasting rights in Asia and has been led by Sepp Blatter's nephew, Philippe, since 2005 -- was officially founded, through the integration of CWL, Prisma and KirchSportAG.
On Wednesday, Bayern CEO Karl-Heinz Rummenigge -- a vice president at the time the games were arranged -- had said: "Those were totally normal friendlies for which we received market-based fees, and in the case of Malta also the travelling expenses."
However, German football magazine kicker reported on Thursday that it had obtained the contract for the Malta friendly and that the local FA did not cover Bayern's travel expenses. It said the contract was signed by Netzer on June 1, 2000.
Beckenbauer first came under serious pressure when Der Spiegel claimed last month that he had made a €6.7 million payment to FIFA that was used to buy the votes of four Asian members of the Executive Committee.
Beckenbauer has said the payment was a "mistake" but insisted it was used only to facilitate the release of a FIFA grant and not to bribe voters.
Niersbach, who resigned the DFB presidency this week, told a news conference in October that Beckenbauer had not made the €6.7m payment but had instead vouched for it, with the actual money coming from Louis-Dreyfus, who was repaid at a later date.