Sepp Blatter insists he is still FIFA president - advisor Klaus J. Stohlker
Sepp Blatter is still the FIFA president, his advisor Klaus J. Stohlker has stressed, as he compared the ongoing investigations to the rise of the Jacobins in the French Revolution.
Blatter is currently serving a provisional 90-day suspension that was issued by FIFA's ethics committee earlier this month in the wake of a Swiss criminal investigation.
With Blatter, 79, barred from taking part in any football-related activity during the ban, Confederation of African Football chief Issa Hayatou was automatically elevated to acting president, but Stohlker said the Swiss remains the leader.
"He is the president," Stohlker said in an interview with Berlin-based newspaper Der Tagesspiegel. "He said: 'I am the FIFA president. Admittedly I am released, but there is no other.'
"There is a serving president -- Issa Hayatou -- but that's only temporary for 90 days. The president is Joseph S. Blatter, and he insists on that."
He added: "He is not a pensioner. He is a fully-paid FIFA president."
Stohlker said he was not speaking as a spokesperson for Blatter -- who is not allowed to conduct interviews related to football during the ban -- but had recently met him and was able to "convey his stance."
The 74-year-old said that during his recent meeting with the FIFA president, he saw that Blatter was "ready to fight."
He described Blatter's co-operation with both the Swiss authorities and the FIFA ethics committee as "constructive" and hit out at the involvement of the United States.
Asked if he was referring to the U.S. prosecutors, he said: "No, I mean the U.S. stakeholders, the respective associations and the five big U.S. sponsors. For a while, the U.S. has given a lot of thought to it.
"They say: 'Yes, we have to rescue FIFA,' as the [U.S. Attorney General] Loretta Lynch put it. The Americans have the claim to rescuing FIFA, but not everyone in the world believes that's only down to the Americans."
He added that Blatter is not of the opinion that his "legacy" needs to be rescued, but rather "defended."
On the ongoing investigations of FIFA's ethics committee -- a body that Blatter himself created -- Stohlker added: "He was the great innovator. That's the tragedy. It's reminiscent of France in 1789, when the Jacobins came into power."
Stohlker also said that Blatter is currently playing host to several guests at his house near Zurich.
"I won't comment [on Blatter's guests], because it touches a personal level, but you can assume that he has remained an in-demand conversational partner in footballing circles," Stohlker said.
On whether those discussions would constitute football-related activity and thus contravene the ban, Stohlker added: "That's why I say that those are private talks. But he is very much in-demand."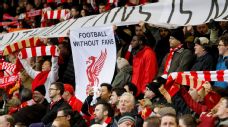 In June, Blatter announced that he would end his reign as FIFA president when his successor could be identified at an election, which has since been scheduled for Feb. 26.
Asked whether the Swiss might change his mind amid the continuing developments, Stohlker said: "That's an important question. He has offered to withdraw should someone be elected. Let's wait and see."
The advisor cited the FIFA electoral procedure, and suggested that Blatter would be ready to stay on if none of the eight candidates currently in the running can secure a majority of the members' votes.
"We can't anticipate the vote, but Joseph S. Blatter is fully prepared to exercise his responsibility -- at least until the congress on Feb. 26 in any case," he said.
"He has not shirked responsibility for 40 years. It's important to make that connection. And he won't leave FIFA alone."
The new president can only be elected if they can command at least 50 percent of the members' votes.