Manuel Neuer rejects reports of Bayern unrest with Pep Guardiola to leave
Bayern Munich goalkeeper Manuel Neuer insists that team spirit has not been affected by Pep Guardiola's decision to quit the club at the end of the season.
Guardiola announced he would leave Bayern in the summer at the end of his contract when the Bundesliga's winter break began in December.
His decision to quit did not affect his team upon their return to action last month, with wins over Hamburg and Hoffenheim keeping them eight points clear of Dortmund at the top of the table.
But on Monday, Guardiola was confirmed as the next manager of Manchester City, replacing Manuel Pellegrini for the 2016-17 season.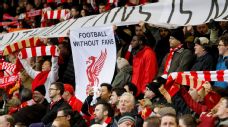 "It crackles outside, but inside the team there is nothing crackling," Neuer told reporters during a news conference in Munich.
"We stick together, and we stand up for each other. We have no problems in the dressing room. The efforts to bring things into the squad from the outside just don't reach us."
There have been several newspaper reports hinting at a possible rift in the Bayern dressing room, with an alleged mole -- first mentioned in Guardiola's first season at the club -- telling kicker that not all is well within the squad.
This week, a report in Sport Bild claimed that midfielder Arturo Vidal had returned from time off to the club's training camp in Doha, Qatar smelling of alcohol. The player and the club have both said they will take legal action against the paper.
Neuer backed Vidal, and said that "he gives 100 percent whenever he is on the pitch."
On Wednesday, sporting executive Matthias Sammer said the attacks from the outside will not split the dressing room.
Injuries to centre-backs Jerome Boateng and Javi Martinez led to the club signing former Germany international Serdar Tasci, 28, on loan from Spartak Moscow. He reportedly suffered from "a minor concussion" in his first training session and missed his own unveiling.
Meanwhile, Mario Gotze is nearing a return to the match day squad, but knows that he needs "to be patient for little while longer."
He told the club's official website: "I'll try and complete all the sessions this week and next and then we'll see where I stand."
Gotze has been sidelined with a groin injury since early October.