Former Bayern Munich president Uli Hoeness to be released from prison
Former Bayern Munich president Uli Hoeness is to be released from jail on Feb. 29, 21 months into a three-and-a-half-year prison sentence for tax evasion.
Hoeness was found guilty of tax evasion in March 2014 after he admitted to holding funds in a secret Swiss bank account -- money he has since paid back to the German tax authorities.
The 64-year-old entered the Landsberg am Lech prison on June 2, 2014, although he has been on day release since the start of 2015 and only spent five nights a week in the prison for the past year.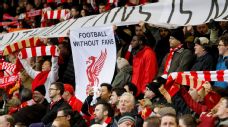 He has been spending his days back at Bayern's training facilities, overseeing the Bundesliga club's youth academy.
The Augsburg State Prosecutors on Monday confirmed reports in the German media that Hoeness' request for early release had been granted.
He will be a free man again from the end of February after serving 637 days of his sentence.
A statement from the State Prosecutors said that they were satisfied that conditions had been met for Hoeness to be released prematurely, although the remainder of his prison term will be suspended for three years.
Hoeness, a World Cup winner for Germany in 1974, spent 35 years as a director for Bayern following retirement, first as director of sport for three decades and then, since 2009, as their president.
He was succeeded by Karl Hopfner following his imprisonment.