European Super League possible - Bayern Munich CEO Rummenigge
Bayern Munich CEO Karl-Heinz Rummenigge said he is not ruling out a potential European Super League.
Rummenigge, who is also the chairman of the European Club Association (ECA), said there is still the possibility that there could be a 20-team league featuring clubs from Spain, England, Germany, Italy and France.
Several top clubs have openly discussed the prospect of a league containing the continent's elite teams, with Real Madrid president Florentino Perez saying in 2009 that he wanted an alternative to the Champions League that "guarantees that the best always play the best."
Arsenal boss Arsene Wenger, meanwhile, has previously said he expected a European Super League to be founded as the biggest-spending clubs would seek to break away from the Champions League "because the income is basically owned by UEFA and they distribute the money to the clubs."
Rummenigge had said in 2013 that the ECA did not support a breakaway competition, telling reporters: "Our European Super League is the UEFA Champions League! We are very happy with the current competitions and our extremely fruitful collaboration with UEFA."
However, the Bayern chief has more recently expressed concern that the Premier League's new TV deal "poses a great threat to all other European leagues" and he is now open to the idea.
"I don't rule that in the future a European league consisting of the big teams from Italy, Germany, England, Spain and France will be founded," he told reporters at an event in Milan. "This could be either organised under the aegis of UEFA or privately."
To generate more marketing income, Rummenigge also proposed the idea of playing some of those European Super League matches in either the United States or Asia.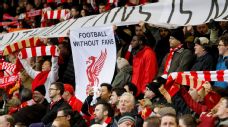 The Champions League has been dominated by clubs from the top five leagues over the last decade, with Jose Mourinho's Porto, in 2004, the last club to break the dominance of the Spanish, English, Italian and German clubs in the competition.
Since the turn of the century, La Liga clubs won the competition seven times, while English and Italian clubs have won it three times apiece and Bundesliga giants Bayern won it twice.
Other than Porto's 2004 success, the final has been contested by two teams from those five leagues every year since Ajax's loss to Juventus in 1996.
Those five countries have also provided 11 of the 16 clubs to have reached the knockout stage in this season's competition.