Douglas Costa won't follow 'genius' Pep Guardiola out of Bayern Munich
Bayern Munich star Douglas Costa has praised Pep Guardiola as a "genius" but has no intention of leaving the club when the coach exits at the end of the season.
Douglas Costa, 25, has enjoyed a successful start to life at Bayern following his summer move from Shakhtar Donetsk, and he was this week named the Bundesliga's best outfield player in kicker's prestigious player poll.
He has recorded 12 assists -- more than any other player in the league -- and scored two goals.
The Brazil international said last month that he opted to join Bayern over Chelsea because he wanted to play under Guardiola, and he told Sport Bild on Wednesday: "It's true, I joined Bayern because of Pep.
"The first six months with him have been outstanding; the next sixth months will certainly be outstanding too. I have learned a lot from Pep."
He added: "He's a genius. I can learn more from him in an hour than from others in one year. He not only lifts you to the next level on the pitch, but also in your mind. He has revealed totally new options to me. I did not know that was possible when I got to Munich. He found a new position for me.
"I enjoy the freedom in the centre of the pitch. I already improved a lot at Bayern, and my dream would be to turn into one of the three best players in the world here."
He stressed that although Guardiola is to leave the club, he "never for one second" considered leaving Germany after only year.
"No chance, I have a lot of goals here," he said.
Bayern have already confirmed Carlo Ancelotti as Guardiola's replacement, and Douglas Costa said: "He's one of the biggest coaches in the world."
Guardiola has said he intends to manage in the Premier League when his Bayern contract expires at the end of the season and Douglas Costa said: "I wish him all the best at his next destination. He will certainly do an incredible job there."
The former Barcelona coach has made clear there are several challenges he wants to take on during his career in management, and he is reportedly interested in leading the Brazilian national team at the 2022 World Cup in Qatar.
"That would be fantastic," Douglas Costa said. "People in Brazil have a lot of respect for Pep Guardiola -- they love his attacking football. I think it would be great if I were to play in the Selecao under him one day."
For now, the attacking midfielder will continue to play under Dunga, who handed him his maiden cap in November 2014, only a few months after Brazil suffered the historic 7-1 defeat against Germany in the World Cup semifinal.
"It was evident there'd be a radical change in Brazilian football after that shock match. I realised: 'It's now or never. Now I have the chance to play for the Selecao,'" he said, adding that he hired a personal fitness coach to increase his chances.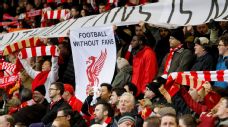 At first, when he was still playing for Shakhtar in the Ukrainian top flight, he had difficulties proving himself at international level.
"They were sometimes pretty quick with the criticism. One bad pass was enough. Today, as a Bayern player, the fans and pundits have more patience with me," he said.
While life has changed for Douglas Costa since joining Bayern Munich, and people recognise him on the streets of Brazilian city Porto Alegre, one thing remains the same.
"I am one of the well-known faces on the streets of my town, but Ronaldino also is a Porto Alegre native," he said. "He's the king in our city, and I am the prince now."