Pep Guardiola out for Champions League glory with Bayern Munich
Pep Guardiola says victory for Bayern Munich against Olympiakos on Wednesday would represent a "first step" towards winning the competition this season.
Over the past two years, Guardiola's Bayern have crashed out in the semifinals of Europe's elite club competition, twice suffering defeats against future winners of the trophy -- Real Madrid in 2014 and Barcelona in 2015.
Speaking to reporters ahead of the German champions' first match of the new Champions League campaign at Olympiakos, Guardiola said he hoped to get off to a winning start.
After duly noting that the Greek outfit had "a lot of quality" and "in the Champions League all teams are strong," he said: "A win here would be a first step. We will try once again to win the Champions League."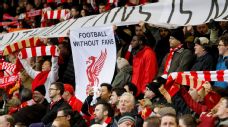 The Catalan did not give away his starting XI during the prematch news conference.
Asked about the possible return of Mario Gotze to the side, referring to the backing the attacker recently received from Germany coach Joachim Low, Guardiola joked: "I don't have the qualities of Joachim Low, and that's why I'm not the Bundestrainer [Germany boss]."
While many believe Guardiola only has one attempt left to win the Champions League with Bayern, with his contract set to expire next summer, the club's honorary president Franz Beckenbauer told Bild he hopes the Catalan will extend his stay at the Allianz Arena.
Asked whether it is Guardiola's last chance, Beckenbauer said: "I don't know. He has not commented on his future yet. I hope that he'll stay longer. I am quite positive about the Champions League."
The 70-year-old added that the summer transfers of Douglas Costa and Arturo Vidal have added more depth to the squad, and said the injured duo of Franck Ribery and Arjen Robben are still important to the club.
"I also hope that Robben and Ribery will return soon," he said.
Earlier this week, Bayern sporting executive Matthias Sammer said that Robben should make his comeback in mid-October.
Speaking to reporters at Munich airport on Tuesday, Bayern CEO Karl-Heinz Rummenigge suggested Ribery might also return soon.
The winger has been sidelined with ankle problems since mid-March, and it remains unclear when he will resume team training.
"We now know what's wrong, and how to treat it, so I am not that pessimistic and think that he will return in the not-too-distant future," Rummenigge said.
"That doesn't mean next week or the week after next week. But he will return, I am profoundly convinced of that."