Stefan Kiessling won't be sold by Bayer Leverkusen in January - Rudi Voller
Stefan Kiessling will stay at Bayer Leverkusen despite the striker being open to an exit, the Bundesliga club's sporting executive Rudi Voller has said.
Kiessling, 31, has been linked with Hannover and he has not ruled out leaving Leverkusen in the January transfer window.
He said at the weekend: "I want to be playing a bit of football at the end of my career and that is why I've got to give things good thought. I'll speak to the bosses and see what the best solution is."
Voller, however, has told Bild: "It's a fact that Stefan will stay.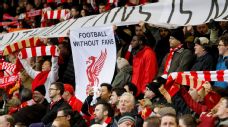 "Of course, he fully deserves that we consider his situation. But we need a broad squad. We've only got three-match weeks next year. He has to stay."
Leverkusen's CEO Michael Schade echoed Voller's sentiment in kicker and said the club "won't sell Kiessling."
Kiessling was given a rare start for Leverkusen against Borussia Monchengladbach at the weekend and was instrumental in the 5-0 win.
He scored the first and third goal of the night and set up a further two for Javier "Chicharito" Hernandez.
Bild reported that several Bundesliga clubs are interested in signing Kiessling, with kicker claiming on Monday that negotiations with Hannover "are far advanced."
Bild also said that Kiessling, who has been linked with a switch to Liverpool, will not leave Bundesliga.
Speaking to kicker on Monday, the forward said that he "of course" could imagine joining a club from the bottom half of the standings.
"It's like that: I either make the step now or I will give it my all here. Nobody has to worry that I'll wane," Kiessling said.