Watford goalkeeper Heurelho Gomes had nothing to prove vs. Tottenham
LONDON -- Watford goalkeeper Heurelho Gomes insists he did not have a point to prove to his former club after his fine performance in Tottenham's 1-0 victory over the Hornets on Saturday.
Spurs had 26 shots, nine on target, in a dominant display at White Hart Lane, with Gomes forced into a string of sprawling saves and powerful punches before and after he was beaten by Kieran Trippier's 64th-minute tap-in.
It was the Brazilian's first match at White Hart Lane since he left Spurs in summer 2014 following a six-year stay in North London.

Tottenham Hotspur

Watford
Game Details
After joining Spurs from PSV Eindhoven in June 2008, Gomes spent three seasons as the club's No. 1 goalkeeper, helping them qualify for the Champions League for the first time in 2009-10 season.
But after a series of high-profile errors, Spurs signed Brad Friedel in summer 2011 and Gomes did not make another league appearance, slipping to third-choice when current Spurs number one Hugo Lloris arrived in 2012.
The 34-year-old has since criticised his treatment by Spurs but he was unhappy at suggestions he had returned to N17 with a point to prove.
"No. Never. I never did," said a visibly-irritated Gomes when asked by reporters if he wanted to make a point to Tottenham. "I don't need to prove a point to anyone.
"Of course, it was a special game to come here because of the club, because of the fans, but I never wanted to prove a point to anyone.
"It was an amazing reception and I really enjoyed it. Of course, I was on the different side today but it's always great to come back. [I remember] the people that work around the club and a few players. Most of them have left but the identity is still here."
The win over Hornets moved Spurs into second, five points behind league leaders Leicester but ahead of Manchester City who they face next Sunday in a crunch clash at the Etihad Stadium.
Were it not for Gomes and some wasteful finishing, Saturday's scoreline would have been far more comfortable for Spurs and the goalkeeper believes their display underlines why they are so high in the table.
"I knew that I would be busy but Tottenham showed today why they're second in the table. They made our lives very difficult. We did great to hold them off for long periods of the game but in the end, when the game is like that, they will always get an opportunity to score.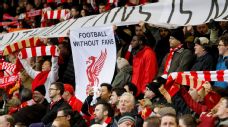 "They didn't give us any chances and it's a difficult place to come. I played on their side here and it's always difficult for the opponent to come and take something. I believe they played one of their best games today.
"They didn't give us any chances to use the ball on the floor, to try to play our game. They have young players with a lot of energy, they make the most of the game.
"It wasn't easy for us. In the final minutes against Chelsea, we spent a lot of energy. Normally we rotate our team a lot. To play a game like today after a very tough period, a very tough game against Chelsea, it's difficult to deal with."