Harry Kane confident Tottenham can repeat Leicester success vs. Man City
LONDON -- Harry Kane is confident Tottenham can follow Leicester's lead by beating Manchester City at the Etihad Stadium next week.
Spurs leapfrogged City into second place following Saturday's 1-0 win against Watford and they can move four points clear of Manuel Pellegrini's side with a victory at Eastlands in their next match on Feb. 14.
The win over the Hornets, courtesy of Kieran Trippier's second half goal, was Tottenham's fourth on the bounce, while City are reeling after Saturday's 3-1 home defeat to league leaders Leicester.

Tottenham Hotspur

Watford
Game Details
Tottenham have lost their last five visits to Eastlands, with their last two trips ending in 6-0 and 4-1 defeats, but they will be aiming for a double next Sunday after beating City 4-1 at White Hart Lane in September.
Spurs head-coach Mauricio Pochettino has urged his players to focus on one game at a time and Kane quickly turned his attentions on the match at City after the match against the Hornets.
"A 1-0 victory is good. It probably should have been more -- we missed some good chances, myself included -- but the win was the most important thing and now we've got a couple of days off to relax and then the big game on Sunday next week," Kane told reporters at White Hart Lane.
"We don't fear anyone. We're happy to go there and play our football and we're excited. We're playing well but we've got to stay focussed. We know we can beat anyone in the league and that's the attitude we've got to keep. We're all working for the same aim and hopefully we can keep winning games and getting better.
"It's a game we can win and we're playing well. Obviously City got beaten [Saturday] and they're going to want to put things right. We're on a great run of the games, the more games that come, the better for us.
"We've had so many games coming thick and fast, we're just on to the next one. That's what we've done this week. We beat Norwich, on to the next one, Watford. Now we get a little bit of a break -- a good week of training which we haven't had for a while -- and then we'll go and try to beat Man City."
Mauricio Pochettino again rotated his full-backs for Saturday's win, with Ben Davies and Trippier among the hosts' most potent attacking threats. Left-back Davies twice went close in the first half before right-back Trippier sealed victory with his first goal for the club.
Kane believes the full-backs are vital to Tottenham's system and expects them to have even more joy at City.
"The way we play, it gives them a lot of space to get forward, to deliver into the box, and they create a lot of chances for us. Obviously, Trippier scored today and it's important that we have that space. Going to Man City, they've got a bigger pitch than ours which gives the full-backs even more space to get forward, so that's what we've got to try to do and try to achieve.
"We've got goals all around the team now, which is important. People are chipping in. I'm delighted for Tripps to get his goal. He's been working hard and he deserves it."
Spurs' brilliant season has led to speculation about the future of Pochettino and the Argentine has been linked with both Chelsea and Manchester United in recent weeks.
Kane sees the speculation as a positive sign and says Pochettino has got Tottenham's young squad "striving for greatness".
"The gaffer is a top manager. He's been good to everyone at the club. He's changed our philosophy and everyone is striving for greatness," Kane said.
"That [Pochettino's future] is down to him. Obviously he's a great manager and he's done great things already in his short time here. There's going to be speculation -- there's been speculation about a lot of our players -- but we've just got to stay focussed. Everyone is happy at the club and we're all going in the right direction.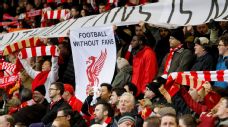 "When people are talking, it shows you must be doing something right. He's a top, top manager and a top class man as well. It's all positive at the moment but we're not getting too carried away. There's still a long way to go, three competitions we're trying to achieve good things in, so we'll see what happens."
Pochettino said this week that Kane and Leicester's Jamie Vardy are on the same level as Sergio Aguero, who beat the Spurs forward to the Premier League Golden Boot last season and cost Man City £38 million in 2011.
Kane added: "To hear something like that from the manager is great but it doesn't affect me. I know what I'm capable of and what I can achieve and that's what I've got to go and do."
Dan is ESPN FC's Tottenham correspondent. Follow him on Twitter: @Dan_KP.