Jose Mourinho says he's 'not enjoying' time off, eager for return to coaching
Jose Mourinho has vowed to return to coaching "soon" amid reports his representatives have opened talks with Manchester United.
Chelsea sacked Mourinho in December, leaving the Portuguese manager without a job for the first time since he initially left Stamford Bridge in 2007.
But in an interview with GQ released on Saturday night, the 53-year-old revealed he is not happy spending time away from football.
"No, I am not enjoying it," Mourinho said. "I can have everything I love at the same time. I can have my family, I can have my friends, I can have my quiet life, which I also like, and I can have my football... I can have everything together and I don't need to give up on one of them.
"To be fully happy I need everything, so I go back to football. I think it's my natural habitat. I have worked since I can remember, and as a manager since 2000. I stopped when I left Chelsea in 2007, for a few months, and now is the second time I stop in 15 or 16 years, so it is not a drama. But for sure, I will be back soon."
Sources told ESPN FC this week that Mourinho was confident about taking over at Old Trafford next season after establishing talks with United.
And though current manager Louis van Gaal said he doesn't believe in the links, Mourinho said he has a preference for the Premier League after finding a greater challenge with Chelsea than in previous spells as manager of Inter Milan and Real Madrid.
"I experimented with English, Italian and Spanish football, three of the top football sides in the world. I always say I need competition -- I need competition every week.
"In Spain I was at an amazing club but I had four matches a year -- Barcelona v Real Madrid, Real Madrid v Barcelona -- and after that you win 4-0, 5-0, 5-1, 6-1...
"Easy to win matches but difficult to win the league, because you are competing against a team that wins and wins and wins like you do, because there are two monsters together.
"So in the end I was champion in Spain with 100 points, and I lost the league in Spain with 91 points. Whereas in England you win leagues with 75, maybe less, so I need competition."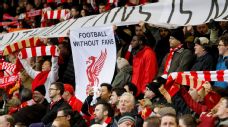 Despite visiting Berlin on Saturday to watch Borussia Dortmund and Hertha Berlin play out a goalless draw, Mourinho was adamant that he sees England as his home -- at least in his personal life.
"At this moment I don't have a job, and I don't know where football will take me, because in football you never know," he said. "But for sure for sure for sure, as a family, our home will still be England, our home will be in London. But obviously I am ready to move.
"As a professional, I am ready to move, especially because football in London for me, in terms of clubs... I think it is clear that I have to move."