Wayne Rooney, Manchester United more confident, not freer - Van Gaal
Louis van Gaal claims Wayne Rooney is wrong to say Manchester United are playing with greater freedom.
United captain Rooney suggested after last week's FA Cup victory at Derby that manager Van Gaal had released some of the shackles on the team.
These sentiments were echoed by midfielder Jesse Lingard after United produced one of their best displays of the season to beat Stoke 3-0 in the Premier League in midweek.

Chelsea

Manchester United
Game Details
But Van Gaal, who has attracted considerable criticism for the defensive, slow and possession-based style he has brought to United, claims it is more a case of Rooney finding form.
Sources told ESPN FC on Thursday night that representatives for United have met with representatives for Jose Mourinho, a possible successor for Van Gaal should he leave Old Trafford this summer.
There was no comment from United on the claim, the latest to link Mourinho with Van Gaal's job.
Hours earlier, Dutchman Van Gaal addressed the suggestion his team have been allowed to express themselves more.
He said at a press conference: "I'm not agreeing with the remark of Wayne Rooney when he said that because it is only that they have more confidence.
"And it is especially so with Wayne Rooney, who is saying that because he has scored seven goals [in seven games]. He can say that he is playing with more freedom because he has more confidence.
"But you want to write in your paper that it's because he gets another training session in another style, because Louis van Gaal gives more freedom -- no, it is still the same.
"We train still the same way. It is not because of the change of attitude of Mr Louis van Gaal or another way of training. No. I'm sorry to say that. We are always working hard and very professionally in the philosophy of Louis van Gaal.
"And that is also for Jesse Lingard.''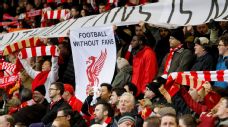 Juan Mata has also impressed in his preferred No. 10 position in the last two games, leading some observers to ask why the Spaniard has not played in that role more often.
Van Gaal claims it is because the former Chelsea man was not in good enough form last time he tried him there.
He said: "I have already played Mata in the same role. Maybe you remember that. I'm not changing him from that role, he has changed himself because at that time he wasn't good enough. That is the reason.
"It is not the trainer-coach or the manager, but when he is playing like he has played now he shall play at No. 10.''