Leicester striker Jamie Vardy back to full fitness as title tilt continues
Jamie Vardy has said he is injury-free and ready to keep Leicester City's title challenge on track.
Vardy struck twice, including a stunning 30-yard volley, as the Foxes beat Liverpool 2-0 on Tuesday to stay top of the Premier League.
The striker, talking to the club about a contract extension until 2019, went seven games without a goal after undergoing a groin operation last month, but said he was now back to full fitness.
"I've got no problems and, as each game comes, we're going to get better and stronger and hopefully I'll get the season out with no more niggles,'' he said.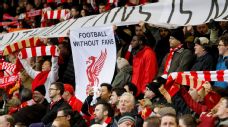 Boss Claudio Ranieri, whose side face second-placed Manchester City in a key clash on Saturday, added: "Now it is one month since he restarted training [after his operation]. Before he didn't train well and played without training. It is not easy. He continued to score, but slowly his performance started to go down.''
Vardy now has 18 goals this season following his brace, scored in front of watching England boss Roy Hodgson, and said his volley was his best strike for the Foxes.
"I just hope there's more of them to come," he told the club's official website.
"When I was put through, I was wide but haven't got any support. I hit it hoping he [Liverpool keeper Simon Mignolet] was off his line a bit. Luckily he was.''
Liverpool manager Jurgen Klopp said he was tempted to applaud the stunning strike that set his side on their way to defeat.
"Things like this happen when you are in such a good moment like Jamie Vardy and Leicester are," Klopp was quoted as saying by Sky Sports. "Obviously you need a little bit of luck but it was really good. First of all you need to be brave enough to do it.
"It's the perfect season for Leicester and the perfect season for Jamie Vardy. They deserve every point they get and Jamie has deserved every goal he's scored until now. I was close to clapping my hands to be honest, but I just felt too bad at that moment."