Pep Guardiola warned about Premier League challenge by Jurgen Klopp
Liverpool manager Jurgen Klopp has said Manchester City-bound Pep Guardiola should expect a tougher test in the Premier League than he has faced in La Liga and the Bundesliga.
Guardiola will take over as City manager for the 2016-17 season after the club's current boss Manuel Pellegrini confirmed he will leave in the summer.
Klopp, who made the move from Bayern's Bundesliga rivals Borussia Dortmund to England last summer, said in The Times: "We plan to avoid that [City being successful].
"City is a club with not too bad possibilities on the financial side and Pep is a really smart person. He won't have chosen City because of his friendship with a few people there.
"They won't have the worst team in the world next year but that doesn't mean everything. As we have shown once or twice, you can beat these teams. We will see what happens.
"He will enjoy the league because it is a great league and a real competition and he is a real competitor. That is what he wants. I don't think that it will be the same situation as he had in Spain, with Barcelona on the top level, or in Germany with Bayern on the top level, but City have good possibilities."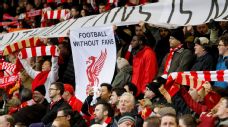 The German added: "He is one of the best managers in the world, no doubt about this. Pep won everything in Spain and nearly everything in Germany so I think he wants to win everything in England -- that is clear."
Former Spain international Guardiola won two Champions Leagues and three La Liga titles at Barca and has two Bundesliga titles in his two full seasons as Bayern boss.
Klopp and Guardiola met each other eight times as coaches in Germany, with four wins apiece including a 2-0 triumph for Bayern in the 2014 DFB Pokal final.