Arsenal's Alex Iwobi choosing Nigeria a loss for England - Arsene Wenger
Arsene Wenger thinks England have missed out on a future star in young Arsenal midfielder Alex Iwobi, who has pledged his international future to Nigeria.
Iwobi impressed again in his second FA Cup start on Saturday, with the 19-year-old involved in the build-up to both Arsenal goals as the Gunners beat Burnley 2-1 at Emirates with England coach Roy Hodgson looking on. With the likes of Kieran Gibbs, Alex Oxlade-Chamberlain and Calum Chambers also starting for Arsenal, Wenger joked after the game that Hodgson didn't need to bother watching Iwobi. "Alex Iwobi is one you (England) can miss because he plays for Nigeria now," the Arsenal manager said. "He should play for England."
Iwobi is the nephew of former Nigeria star Jay-Jay Okocha but grew up in England and joined Arsenal's academy as an eight-year-old. He represented England at youth levels up to the under-18 team, before being called up to Nigeria's senior squad. Wenger said that happened after Arsenal didn't let him join up with England's under-23 team.
"I remember I turned him down to go to an U23 friendly tournament and then Nigeria called him up for the first team to force him to go," Wenger said. "Because you cannot turn down the first team. It's a massive football country, 180 million people, a big history. Okocha is a top legend there and so is [former Arsenal striker Nwankwo] Kanu."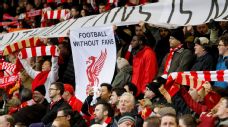 Iwobi has emerged as one of Arsenal's most promising teenagers, and can be used in a number of attacking positions. He has played in central midfield in both of Arsenal's FA Cup games this season, and impressed with his vision, passing ability and willingness to take on defenders. But Wenger said it wasn't obvious early on that Iwobi would make it as a professional.
"His decision-making is spot on and his awareness is very interesting," Wenger said. "He's a boy who, two years ago, not many would have said: 'This will be.' He develops very well. He's very clever. I like the timing and the quality of his decision-making. He always turns where you want him to turn and he plays the ball where you want him to play the ball. He's very interesting."
Iwobi said this past week that he thought he would be sent out on loan this season before Wenger told him he wanted him stay at the club. And the Arsenal manager said Iwobi's development was better served by staying in North London and training with the first team.
"I have a hesitation about loaning him because I think this guy could very quickly play," Wenger said. "It's the first season he trains with the top team and I think it would help him a lot to see the quality of the players around him. He can play on the left, on the right, behind the striker, even No. 9. He scores goals in training. He's one who, when he was a kid, could pass you by if you don't watch well in training but I personally like this game."