Carl Jenkinson back at Arsenal for treatment on serious knee injury
Arsene Wenger has confirmed that Carl Jenkinson suffered a cruciate knee ligament injury while playing for West Ham and will need at least six months to recover.
Jenkinson's loan spell at West Ham has been cut short because of the injury and he is now back at Arsenal to start his rehabilitation process, Wenger said on Friday.
"He has a cruciate, so that rules him out for six months," Wenger said.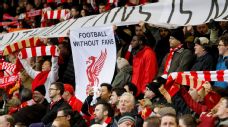 Jenkinson has been on loan at West Ham since last season and was injured against Manchester City on Saturday when making a tackle that conceded an early penalty in the 2-2 draw.
Wenger is also expecting Mathieu Debuchy to leave the club -- possibly on loan -- before the January transfer window closes, but still has Hector Bellerin and Calum Chambers as right-back options.
The Arsenal manager has had tough decisions to make with both full-back positions this season, with Nacho Monreal and Kieran Gibbs competing for playing time on the left side.
Gibbs has had to settle for being the No. 2 option this season, and Wenger confirmed that the England defender is also hungry for more games in order to earn a spot in the European Championship squad.
"He went through a period that was difficult for him. Now he's back with full power, full commitment," Wenger said about Gibbs.
"He will get games, Kieran Gibbs. He's a quality player, but there again there is competition. I understand that players have that target of a European Championship. But first and most important is the club, and the achievement with the club. To be at the European Championship is only the consequence of what you do with the club."