West Ham confirm Carl Jenkinson has suffered 'significant' knee injury
Arsenal loanee Carl Jenkinson has suffered a serious knee injury during his spell at West Ham United.
Jenkinson, who has been on loan at Upon Park since 2014, was injured when giving away an early penalty in Saturday's 2-2 draw with Manchester City.
The 23-year-old is set for further tests on the injury on Wednesday, but sources have told ESPN FC that the initial diagnosis is a cruciate ligament injury.
A statement on the club's official website read: "West Ham United can confirm that Carl Jenkinson injured his left knee during the early stages of Saturday's Barclays Premier League fixture with Manchester City.
"Unfortunately, it appears that Carl has suffered a significant injury and he will be assessed by a specialist in central London on Wednesday.
"A further update will be provided when the full extent of the injury has been confirmed."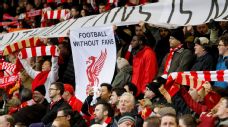 Jenkinson, who extended his contract with Arsenal in the summer, is expected to return to his parent club to undergo his rehabilitation with the England international unlikely to be fit until next season.
Sam Byram, who joined West Ham from Leeds this month, is set to take over as Slaven Bilic's first-choice right-back in the second half of the season.