Chelsea's Diego Costa a 'serial cheat' - ex-Arsenal chairman Peter Hill-Wood
Diego Costa is a "serial cheat" who got Per Mertesacker sent off with a "blatant" dive during Chelsea's 1-0 win over Arsenal at Emirates Stadium on Sunday, according to former Gunners chairman Peter Hill-Wood.
Mertesacker was shown a straight red card by referee Mark Clattenburg on 18 minutes after Costa latched onto a Willian pass and tempted the Arsenal defender into a rash tackle as he ran through on goal.
The Spain international then took just five minutes to break the deadlock in Mertesacker's absence, converting Branislav Ivanovic's pinpoint cross to extend Chelsea's unbeaten run since Jose Mourinho's departure to eight matches in all competitions and dent Arsenal's Premier League title hopes.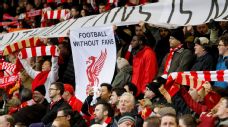 After the match Gunners boss Arsene Wenger accused Costa of deliberately getting Mertesacker sent off, describing the striker as "clever" and likening the incident to the clash that earned Gabriel Paulista a straight red card when the two sides met at Stamford Bridge in September.
But Hill-Wood, 79, who served as Arsenal chairman for 31 years before stepping down in June 2013, went even further.
"He is a serial cheat and he gets away with it," Hill-Wood told the Daily Star of Costa. "I think he deliberately ran in front of Mertesacker, who hardly touched him. Yet Costa rolls around as if his legs have been cut off. Once the red card's been shown, he's suddenly perfectly all right again.
"That's because there's absolutely nothing wrong with him. There certainly wasn't soon after when he scored that goal. Personally I think the referee should have sent him off for diving. It's very annoying because to me it is blatant.
"I thought Arsene was very restrained because he must have been furious. He gets criticised or penalised by the FA if he says too much."
Costa was substituted on 68 minutes at Emirates Stadium with a knee injury, but Chelsea interim manager Guus Hiddink is optimistic that the problem is not serious.
Liam is ESPN FC's Chelsea correspondent. Follow him on Twitter: @Liam_Twomey.