Patrick Vieira: Jose Mourinho had more influence on me than Arsene Wenger
Arsenal legend Patrick Vieira has told The Times that former Chelsea manager Jose Mourinho had more influence on him than Gunners boss Arsene Wenger due to his "unbelievable" attention to detail.
Ex-France international Vieira, who played under both Wenger and Mourinho, is now a coach himself at Manchester City's MLS franchise New York City FC -- and the former midfielder says Arsenal never approached him about a role with the club after his playing career ended.
Vieira was asked to pick any manager in the world to coach his ultimate XI, and replied: "Jose. He's the manager who had more influence on me."
That may surprise Arsenal fans given that Vieira only spent 18 months under Mourinho at Inter Milan, while his Gunners career under Wenger lasted nine years.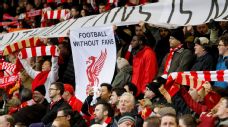 Explaining the decision to pick Mourinho -- whose bitter feud with Wenger lasted for years -- Vieira said: "Why? Because he [Mourinho] was the one who impressed me most on his work ethic. He knew everything about the opposition, the strength, weakness.
"His detail was unbelievable; everything was so clear about what he wanted from each player. I don't know what happened at Chelsea but he always got the best out of his players."
Mourinho led Chelsea to the Premier League title last season in his second stint with the London club, but was sacked after a dismal start to this campaign.
Meanwhile, Wenger's Arsenal are top of the standings and looking for their first league title since Vieira and "The Invincibles" won it in 2004.
"Arsene is more concentrated on his own team [than the opposition]," Vieira said. "He gives freedom to players to express themselves. It's a different style."
Vieira finished his playing career at Manchester City and then stayed at the club in an ambassador role and helping coach the youth teams, before being hired as NYCFC manager.
While fellow "Invincibles" Thierry Henry and Freddie Ljungberg are now back at Arsenal coaching youth teams, Vieira said he was never offered a role with the London club after his playing career ended.
"I've never been contacted by anyone to manage or get involved with the club," he said. "I was expecting something from them, but it didn't come. It didn't kill me."
Whether Vieira can emulate either Mourinho or Wenger as a manager remains to be seen, but he is determined to make this a long-term career and knows that his famous name will only get him so far.
"I see some players go into management and they are out again after two, three years. I want to be doing this for 20, 30 years," he added. "I stand or fall on results.
"This is the world we are living in, the world I choose to live in. I have to do well. I have to win. I will be treated like anybody else."
Mattias is ESPN FC's Arsenal correspondent. Follow him on Twitter: @MattiasKaren.