Fans angry as Arsenal vs. Leicester moved for TV with 23 days' notice
The Premier League has promised to see what can be done to help fans affected by the decision to move Arsenal's home game against Leicester for TV coverage at short notice.
The top-of-the-table clash has been moved back 24 hours -- to Valentine's Day -- just three weeks before it was due to be played to accommodate broadcast by Sky.
All home and away tickets have been sold out based upon the game being played at 3 p.m. GMT on Saturday, Feb. 13, but it will now be played at noon the following day.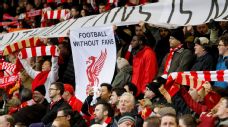 The games already scheduled for Sunday -- Aston Villa vs. Liverpool and Manchester City vs. Tottenham Hotspur -- have also had their kickoff times pushed back to fit in the Arsenal-Leicester fixture.
The live TV schedule for February was published on Dec. 17, meaning supporters were confident they could make arrangements. Home tickets for the game sold out last month, with all away tickets being snapped up two weeks ago.
Union FS, an independent Leicester City supporters' group, has issued a statement condemning the move and called on fans to stay in the concourse for the first five minutes of the match and display banners in protest.
The Premier League insists it only moves games at shorter than six weeks' notice on "extremely rare occasions," but with just 23 days until the sold-out fixture the vast majority of fans will already have made travel plans.
#Arsenal v Leicester changed from Saturday 3pm to Sunday at noon...just 3 weeks to the game...tickets & flights booked for Sat...not happy

- Ger Lawton (@GerLawton) January 21, 2016
@premierleague Thank u for the last minute change to the Arsenal v Leicester game. Flights and train fares now gone. Thank you

- Walter Butler (@wallyhoop79) January 21, 2016
Are @SkySports going to cover the cost of the trains and tickets us Leicester fans have brought for the Arsenal game. #AMF

- Dan Portch (@DanPortch1) January 21, 2016
It does not only affect the 3,000 Leicester fans who have already bought £26 tickets, booked transport and hotels, but Arsenal fans who have arranged to fly into London.
"We always seek to give fans a minimum of six weeks' notice of any fixture changes," a Premier League Spokesman insisted.
The Premier League has issued the following statement regarding Arsenal v Leicester City. pic.twitter.com/A1LIuu3YiO

- BBC Leicester Sport (@BBCRLSport) January 22, 2016
"It is only on extremely rare occasions we don't meet that aspiration during the normal course of the season.
"We are currently in discussions with Arsenal and Leicester City to see what can be done to help fans affected by this scheduling change."
Last month, Leeds United president Massimo Cellino tried to ban Sky from broadcasting their Championship game against Derby County in protest at the amount of times his club have been televised this season. Then earlier this week it was announced Sky had moved Leeds' home game against Middlesbrough from Saturday at 3 p.m. to Monday night at three weeks' notice, causing further anger.
Leeds United Supporters' Trust claims the decision to move the latest fixture is an "outrage."
The League has expressed regret at the late rescheduling, but blamed the delay in confirming the fixture switch on legal action taken by Leeds in their bid to prevent further games from being televised.
"By moving the fixture at obscenely short notice, the Football League and Sky TV have once more illustrated where fans rate on the footballing scale of decision-making -- at the very bottom,'' LUST said in a statement.
"These custodians of game are allegedly tasked with protecting its integrity yet have moved the match with no thought for the game's lifeblood, match-going supporters. Football fans plan their lives around the league calendar and Leeds United is an internationally supported club.
"The Trust has been made aware of inconvenienced supporters from casual match-day goers resident in the city, through London-based season ticket holders unable to attend, to a group of 95 Norwegian fans whose prearranged return flight for the Saturday fixture departs on Monday afternoon.
"Less than 28 days is obscene, it should be at least twice that."