Arsene Wenger: Arsenal draw at Stoke shows 'fantastic spirit' of Gunners
Arsene Wenger called Arsenal's 0-0 draw at Stoke "a positive result" given the team's recent struggles at the Britannia Stadium, and praised his side's spirit for standing up to a "physical" challenge.
Arsenal still haven't won at Stoke since 2010 and were denied by a number of good saves by goalkeeper Jack Butland on Sunday.
The Gunners still regained top spot in the Premier League on goal difference ahead of Leicester City despite Mesut Ozil missing the game with a foot injury, while Alexis Sanchez was still not back from a hamstring problem.
Stoke City

Arsenal
Game Details
"I'm pleased with the spirit we have shown again today. I think we had two very physical games in four days away from home," said Wenger, whose team drew 3-3 at Liverpool on Wednesday after conceding a last-gasp equaliser.
"Spirit-wise I think this team is fantastic. With all the players that were out we came away again with a result today. That is what it is, but it's still a positive result compared to the ones we have made here before."
Arsenal lost 3-2 at the Britannia last season after being down 3-0 at half-time, though never looked likely to suffer the same embarrassment on Sunday.
But like Stoke, Arsenal had their goalkeeper to thank for keeping the game scoreless. Petr Cech made a brilliant double save to deny the hosts in the 57th minute and blocked another shot with his leg in the final minutes.
Before the game, Wenger had praised Stoke for their style of play under manager Mark Hughes, saying that their increased focus on a possession-based and technical game suited Arsenal better than the team's "rough" style under Tony Pulis.
But this was a scrappy game from the start, and Wenger said Stoke looked more like their old selves than he had expected.
"Stoke wanted to surprise us with a very direct game, and made it very difficult from the start. We had to fight and as long as we couldn't score the goal, we could win or lose after that," Wenger told Sky Sports.
"We expected them to play more on the ground. But they decided to go the other way. We dealt quite well with it, but in the last minute we were in trouble as well."
Ozil was ruled out with what the club called "a slight foot injury," and Wenger said he expects the German to be fit for next weekend's game at home to Chelsea. The team struggled to create clear-cut chances in Ozil's absence, with his passing and vision sorely missed.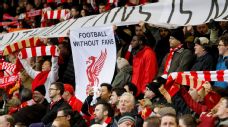 "There's no team in the world that doesn't miss Mesut Ozil," Wenger said. "We are used to having him there and give the final ball. But I must say, even with Mesut it would have been a very difficult game."
For Hughes' team, it was another good performance against a title contender, having already beaten both Manchester clubs at home this season.
"We've gone up against Arsenal. Many think they're going to be champions this year, and I didn't see much difference between the sides," Hughes said. "Once again we've gone up against one of the elite teams and made it difficult for them.
"And on another day with a little bit of luck we could have won that game, as we have done against other elite teams here."