Bayern coach Pep Guardiola sorry for destabilising Premier League bosses
Pep Guardiola has apologised for putting pressure on Premier League managers following his announcement that he wants to coach in the English top flight next season.
Last month Bayern Munich announced that Guardiola will leave the club this summer at the end of his contract, with Carlo Ancelotti taking over.
Guardiola has since expressed his wish to manage in the Premier League, leading to speculation that both Manchester City and United, along with Chelsea, are interested in appointing him.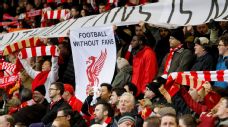 While Guus Hiddink has joined Chelsea on an interim basis following Jose Mourinho's departure, United and City have permanent bosses in Louis van Gaal and Manuel Pellegrini respectively.
Guardiola has been criticised for unsettling managers in the Premier League and, speaking to reporters at Bayern's winter training camp in Qatar, has now apologised.
He said: "I am sorry. Normally, in my career as a coach, as a player, I respect a lot my colleagues, so I am sorry. It wasn't my intention."
Guardiola vowed to "fight until the last second to reach the best possible results" as Bayern look to defend their Bundesliga crown and challenge for the Champions League and DFB-Pokal.
Bayern lead the Bundesliga by eight points, but have twice been eliminated from Champions League at the semifinal stage under Guardiola. The biggest trophy in club football remains Guardiola's goal, but he believes that Bayern, right now, don't have what it takes to lift the cup.
"We are not ready to win the Champions League yet. We need to make a step forward," Guardiola said. "For instance, we have a problem when we concede a goal. We lose our concentration and the control. Then, we are not stable enough."
Regardless of trophies, Guardiola says his main goal is to make people happy with the way his side plays football.
He added: "Titles are numbers. Football is emotion. When the people go home satisfied this is the biggest gift for me as a coach."