Yaya Toure's agent doubts Guardiola's record at Barcelona and Bayern
Manchester City midfielder Yaya Toure's agent has questioned the credentials of Pep Guardiola and claimed his grandfather could win the league in Spain and Germany.
Guardiola will leave Bayern Munich in the summer at the end of his contract, and he has revealed that he will join a Premier League club.
Arsenal, Chelsea and Manchester United have all been linked with him, but City are expected to name the former Barcelona boss as their manager in place of Manuel Pellegrini at the end of the season.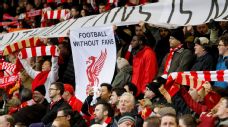 Guardiola won La Liga in three consecutive seasons at Barca before finishing second to Real Madrid in his final campaign.
He has won the Bundesliga in each of his two seasons in Germany, with Bayern currently eight points clear as he chases another hat trick.
Toure and Guardiola look likely to be reunited at the Etihad after the Ivory Coast international -- who surrendered his African Football of the Year award to Borussia Dortmund striker Pierre-Emerick Aubameyang last week -- played under him for two years before joining City in 2010.
But his agent Dimitri Seluk did not sound delighted by the prospect of Guardiola arriving at City.
"Pep is a great coach. But he has won the title at Barcelona and Bayern Munich," Seluk told the Daily Mirror.
"The truth is that my grandfather would win the title with Barcelona and Bayern Munich because they are big clubs with great players.
"Look at [current Barcelona coach] Luis Enrique now. Last season he won the title and the Champions League with Barcelona.
"I'm not saying he isn't a good coach, but look what he did at Roma -- nothing. I'd like to see Pep take a club that is eighth or ninth and make them champions."
Seluk is also concerned that Toure's future at City could be in doubt.
"In Germany, they say it is 100 percent that Guardiola will be City's manager and I believe it also," he added. "I don't know what Guardiola's plans are, but -- after what happened at Barcelona -- of course it is a worry that, when he comes, Yaya will be out."