Pep Guardiola would suit any English club, says Chelsea's Guus Hiddink
Guus Hiddink insists that Pep Guardiola would suit "any big team in the world" after the outgoing Bayern Munich coach revealed he wants a move to the Premier League next summer.
Guardiola's contract at the Allianz Arena expires at the end of the season and last month the Spaniard confirmed that he would not sign an extension.
Bayern swiftly moved to appoint Carlo Ancelotti as his successor and Guardiola's declaration has prompted a storm of speculation around the Premier League amid reports that Manchester City, Chelsea and Manchester United are all interested in acquiring his services.
Last month City boss Manuel Pellegrini insisted that he hopes Guardiola gets the chance to manage at the Etihad Stadium and while Hiddink -- who is only contracted at Stamford Bridge on an interim basis until the summer -- stopped short of offering a similar endorsement regarding Chelsea, he is in no doubt as to the Barcelona legend's ability to succeed in England.
"He would fit in any big team in the world," Hiddink said of Guardiola. "He has shown in a very fast career that he is capable of managing a team very well. But it's difficult to say he must go to a certain team in the Premier League and I don't want to put more pressure on managers and directors. Let it come as it comes.
"He has worked in La Liga, he has worked in the Bundesliga and now he wants to work in the Premier League. I have had this experience.
"Unfortunately I never worked in Germany but the Bundesliga is a beautiful league, the Spanish league I worked in for several years and it's a beautiful league, so I can understand that he expresses his desire to work in the Premier League."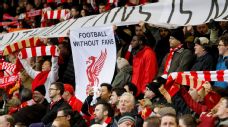 Guardiola's imminent availability has ramped up the pressure on Pellegrini and United boss Louis van Gaal, but Hiddink does not believe that the Bayern coach intended to provoke uncertainty at top Premier League clubs.
"It can put pressure on other managers but knowing him a bit, I think he was asked to express his ambition, his desire to work in one of the biggest leagues in the world," Hiddink added.
"I don't think he is playing a game, putting pressure on clubs and managers. Some managers do that but it's just an expression of desire."