Pep Guardiola always 'dreamed' of Premier League management - Xavi
Former Barcelona star Xavi has said that Pep Guardiola always dreamed of managing in England, while adding there is little doubt in his mind that his former manager will be a success wherever he goes.
Xavi, 35, now plays with Qatari club Al Sadd, but his career as both player and manager overlapped with Guardiola at the Catalan club, where the two won a treble in during the 2008-09 season.
Guardiola always spoke glowingly of the Premier League, according to Xavi, who said it was only a matter of time before the Spanish boss took up a position in England's top flight.
"There was never a question of if Pep was going to manage in England -- the only question would be when," Xavi said in quotes appearing in the Mirror.
"When I was at Barcelona, we would always be talking about the Premier League, and our respect for the quality of the teams, the players, and the pace the game was played at.
"Even when he was at Barcelona, you could see it was his dream to one day manage in England."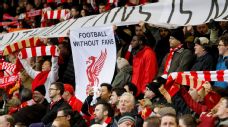 Now with Guardiola in his final year with current club Bayern Munich and a host of teams in the Premier League -- including Manchester City, Manchester United, Arsenal and Chelsea -- said to be seeking his services for the 2016-17 campaign, the time for the "dream" move could be imminent.
"I don't think it is even a question if he will be a success in England or not. Of course he will be, like he is a success everywhere," Xavi said when asked if Guardiola would be a winner in England.
"From the way his Barcelona and Bayern teams have played football, it is clear he plays a philosophy of football the fans will enjoy, but Pep is so much more than that.
"He is a perfectionist of course, but if you speak with the players they will all talk about the family atmosphere he creates at the clubs he is at, how he has the total trust from his players.
"That is what makes him special."