Leicester's Jamie Vardy to have groin surgery, misses cup tie vs. Tottenham
Jamie Vardy has been ruled out of Leicester City's FA Cup third-round tie against Tottenham Hotspur as he is scheduled to have "minor" surgery on a groin injury.
Vardy, the Premier League's joint-top scorer this season with 15 goals, will miss the trip to White Hart Lane on Sunday and is likely to miss the Premier League match at the same venue three days later.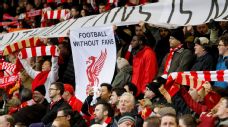 BBC Radio Leicester reported on Sunday that the striker could be out for up to two weeks, meaning he would also miss the league trip to Aston Villa on Jan. 16. But the Foxes have so far only confirmed to Press Association Sport that the Vardy will miss their next game.
The 28-year-old has played through several injuries this season, including a broken wrist and a hip complaint for which he received pain-killing injection, while most recently he featured in Leicester's Christmas fixtures despite suffering from a virus.
However, the forward told the Daily Mirror that he does not expect to be rested unnecessarily by manager Claudio Ranieri.
"I will be fine, no worries about that," he said. "I won't be having a rest.
"The illness last week has all gone now. I couldn't tell you what it was. I was deteriorating by the minute and bed-bound for a couple of days. I looked even worse the day after playing Liverpool. It took the wind out of me completely. I couldn't do anything apart from stay in bed."
The England international has netted 15 Premier League goals this season, including a record run of scoring in 11 consecutive games, although he has just one in his last six.
Leicester's form has dipped slightly too, failing to score in a run of three games that has yielded two points.
But Vardy is hopeful that he can carry his form from the second half of 2015 into the new year and secure a place in the England squad for this summer's European Championship in France.
"If I have a second half to the season like I have had a first half, then hopefully I will be on that plane," he said.
"You have seen what is going on at this club, it is building in a way so they can be challenging at the top all the time. We will keep doing what we are doing on the training field and see where it takes us."