Only three Liverpool players would make the Tottenham team - Murphy
Only "two or three" Liverpool players would get into Mauricio Pochettino's Tottenham team, according to former Reds midfielder Danny Murphy.
Liverpool's 1-0 win over Sunderland moved them to within five points of fourth-placed Spurs, who are being mentioned as title contenders after claiming maximum points from their three festive fixtures.
But former England international Murphy, who played for both clubs, doubts Liverpool have the quality to leapfrog Tottenham into the coveted Champions League spots, claiming only Jordan Henderson, Philippe Coutinho and Nathaniel Clyne would make Pochettino's team.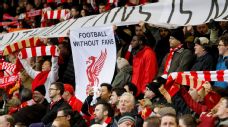 "I grew up a Liverpool fan, played for them for seven years and only at Tottenham briefly. But I have to say, Tottenham are in a better position," Murphy told Talksport.
"If I was a Tottenham supporter I'd be very, very excited about the coming seasons and this particular season.
"Liverpool, they need a turnaround of players and the reason I say this is somebody asked me how many Liverpool players would get into Tottenham's first XI.
"Here's my quick answer to that -- two, three maximum. And I can't think of a year in my lifetime where I think that could have been said. And that's a big turnaround.
"I personally would have [Jordan] Henderson instead of [Eric] Dier, only just. I know Dier's been brilliant.
"The only problem with Henderson is Dier's a sitting midfielder, Henderson likes to get forward. What you could do is put Henderson and Dele Alli ahead of Dembele and play [Mousa] Dembele in the holding role. I couldn't leave Dembele or Alli out.
"[Philippe] Coutinho definitely, and finally -- it wouldn't bother me not putting him in in terms of [Kyle] Walker's ability -- would be [Nathaniel] Clyne. He probably just edges Walker but both are superb right-backs."
Murphy also said Harry Kane would feature ahead of England teammate Daniel Sturridge because of the latter's chronic injury problems.