Kevin De Bruyne: Baby was a factor in joining Man City from Wolfsburg
Manchester City midfielder Kevin De Bruyne has admitted that he might have stayed in Germany for another season if his partner had not been expecting their first child.
De Bruyne, 24, moved to City from Wolfsburg for £54 million over the summer and he has already chalked up five goals and eight assists in 15 Premier League appearances.
But the Belgium international has now revealed that he could have delayed his switch had circumstances off the field been different.
"The birth of my son will be the best day of my life," he told Belgian newspaper La Derniere Heure. "It's incomparable with football, even if it did influence my transfer.
"Given the baby was due to be born, I did not want to move next year."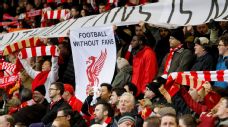 When asked if he would still be at Wolfsburg were it not for the upcoming arrival, he said: "Maybe. It wasn't the only factor but it played a part.
"It wouldn't have been easy to move next summer. Even if [Wolfsburg] wanted me to stay, they understood the situation.
"Michele would not have been happy to prepare everything in Wolfsburg for two months before moving."
De Bruyne, who was on the books of Chelsea from 2012 to 2014, also reflected on his new status following his big-money move.
He suggested that a larger price tag brings with it more pressure but also more opportunities.
"It's a huge difference," he said. "I would have played more at Chelsea if I cost more. It's the logic of the business."
The former Genk playmaker has started to put in some eye-catching performances for City, particularly at home, and he says they are a fun team to be part of.
"It always takes a little time to acclimatise to a new environment," De Bruyne said. "I came on after 20 minutes in my first match [against Crystal Palace in September] and I've had to play a lot since then because of injuries. That sped everything up.
"I have to admit that it's enjoyable playing in such an attacking team. It allows me more space.
"At Wolfsburg, if I wasn't going as well, the team followed. That's no longer the case at City.
"Despite appearing like stars, the squad is quite normal. You have stars in every team but I find us tight-knit.
"There are no little groups even if there are linguistic affinities. We hang out together quite regularly.
"It's hard to compare this squad to that of Chelsea. Are we tighter knit? Maybe."