Jose Mourinho would be welcome back at Real Madrid - Ramon Calderon
Former Real Madrid president Ramon Calderon has said Jose Mourinho would be welcome back as manager of Real Madrid and that current boss Rafa Benitez was the club's fourth choice for manager.
In an interview with BeIn Sports, Calderon said that current Real president Florentino Perez actually wanted Mourinho to replace Carlo Ancelotti for the 2015-16 season, but the Special One refused. Joachim Low and Jurgen Klopp were both preferred prospects for the job ahead of Benitez, as well, he said.
"The truth is that Benitez was the fourth option for Real Madrid," Calderon said. "I think Perez is still trying to bring [Mourinho] back here. He really likes him.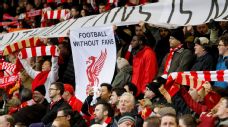 "You know that in football that results are important. Chelsea is in a situation that is not normal for them and I don't know what [Roman] Abramovich will be thinking about that.
"This situation was lived by both of them a few years ago and he decided to sack him. If he is not anymore in Chelsea I think Perez will be really willing to bring him back to Real Madrid."
Pressure is mounting on Mourinho at Chelsea, who face Klopp's Liverpool on Saturday, with many speculating that he could be sacked at the weekend if they lose at home to the Reds.
Calderon admitted to not really liking Mourinho as manager of Real Madrid because of his behaviour in the dugout and with the media. However, he said Perez is an adamant supporter and he wouldn't be shocked to see the Portuguese return to Madrid in the near future.
"I don't rule out that [he will be back at Real Madrid]. If he is not anymore at Chelsea and Benitez is not doing well at the end of the season here, I don't rule out he's going to be back here. The president is really looking for that.
"As I said, I wasn't just a fan of Mourinho but because of the things he did here. He's got the worst record ever for a coach that has been coaching Real Madrid for three years.
"Apart from that, his behaviour wasn't the right one but Perez always backed him and remember that he decided to put a big banner saying 'Mourinho, your finger shows us the way,' referring to that sad episode when Mourinho poked the finger in [Tito] Vilanova's eye in that really horrible match.
"That's why I say that I'm sure that if Mourinho is not anymore in Chelsea at the end of the season and things are not well with Real Madrid and Benitez here, I see Mourinho again on the bench of Real Madrid."