Man United keeper David De Gea did not want to play vs. Spurs - Van Gaal
David De Gea told Manchester United he did not want to play in their Premier League season opener against Tottenham, coach Louis van Gaal has claimed.
De Gea, 24, watched United's 1-0 win over Spurs last Saturday from the Old Trafford directors' box as Van Gaal selected debutant Sergio Romero and named Sam Johnstone among the substitutes.
But Van Gaal has insisted that, rather than axing United's reigning player of the year, he merely acceded to the wishes of the Spain international -- who is a target for Real Madrid -- and said his omission was a mutual choice.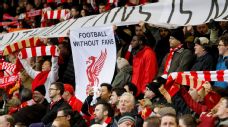 "We've talked with him, he was fully agreed with our decision," Van Gaal said in a news conference. "We have a goalkeeping coach, Frans Hoek, I'm not doing everything alone.
"Frans Hoek has a meeting with David De Gea and he asks him: 'Do you want to play?'"
Van Gaal said De Gea replied that he did not and added: "Then I have to take the decision. It is a process. We had been observing him in preparation and he was not so good, he was not the same David De Gea as before, he was my best player last season."
De Gea will again be omitted from the United squad for Friday's visit to Aston Villa and Van Gaal, who has suggested he might not play as long as the transfer window remains open, has warned the Spaniard he may not get back into the team in September.
"That depends on Romero also and his form," he said. "It is always like that."
Van Gaal said United are waiting to see if defender Phil Jones will be able to return in two weeks' time. The England international has spent a week on the sidelines already and will sit out matches against Villa, Newcastle and Club Brugge.
"He has thrombosis and the doctor was amazed that tightness in his calf was a consequence of thrombosis," the Dutchman said. "Then he goes to the hospital with him for a second opinion and it was confirmed and now he has treatment and we have to wait and see after three weeks if that treatment is successful."