Robin van Persie: No honest chance of Man United role under Louis van Gaal
Robin van Persie believes that Louis van Gaal did not give him an "honest" chance of reclaiming his starting spot at Manchester United.
Van Persie, 31, signed for Fenerbahce this week after falling down the pecking order at Old Trafford under his former Netherlands coach Van Gaal.
The Dutch striker decided to leave after being informed he was no longer in Van Gaal's immediate plans, and told the Sunday Times that problems began to develop after he was an unused substitute in the defeat at Chelsea in April.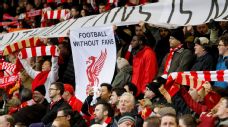 "That was one of the first signals things weren't going in the right direction," he said of the Stamford Bridge defeat. "I asked to play in the reserves, to get my minutes, but after was on the bench again.
"The atmosphere changed between me and Louis and people at the club saw it, but I was always professional. At that point I didn't think to leave. [My wife] Bouchra was happy. The kids were happy. I was happy in Manchester."
The striker revealed that Van Gaal told him he was not needed next season at United's annual charity golf day, saying: "I was still thinking we could come back from holiday and start from scratch.
"He had changed his mind about me before. When he took over Holland he said to me 'You're the No. 3 striker.' I was 'O...K...' but I fought and became the No. 1 and his captain.
"But when I came back, it wasn't an honest battle any more. Fighting to get back in the team wasn't given [to] me as an option. He was sending me to Pitch Two [reserves].
"And I'm a mature player. I'm not stupid. I didn't get angry or emotional. These things are part of football, part of life. You have to make the best out of any situation so I'm doing this by moving on."
Van Persie enjoyed a superb debut campaign at Old Trafford after signing from Arsenal for £24 million in 2012, playing in every single Premier League game and scoring 26 goals to guide United to the title.
But injuries prevented him from finding form during David Moyes' brief tenure as he netted 12 in 21 league games with United finishing seventh, and the striker believes that last summer's World Cup in Brazil -- where he was coached by Van Gaal -- cost him the chance of a regular role in the Dutch coach's new United side.
"The World Cup was very intense, physically and mentally, especially as a captain," he said. "Maybe I needed one more week's break before the season.
"Over Christmas I played three games in six days, full games, and my [ankle] tendon got inflamed but I kept playing, taking painkillers, to help the team."
Asked about his acrimonious exit from Arsenal, Van Persie replied: "Time heals, but I understand. If you're Arsenal captain and top scorer and move to United, fans will be upset. And not for one second have I been angry about that.
"I wanted to win the Premier League. And we did at United. But I had a very special time at Arsenal. Some might want to erase me from their history, but no one can change the facts.
"I did score 132 goals for Arsenal, I did play close to 300 games. One year as a captain. Arsene [Wenger] is my football father. He raised me from being a little kid, as a footballer.
"What he does, for players young and old, is create an environment where you feel the trust like one big family. People think there was an argument between us.
"On the contrary we always had a lot of respect for each other. We just had some different views at the time and I'm still talking to Arsene regularly now. He is a world class coach and manager and above all, a classy man."
Wenger said he was surprised at Van Persie's move to Fenerbahce, but the forward is hoping that he will have one last chance to say goodbye to the Old Trafford crowd with United potential opponents in the Champions League group-stage playoffs.
"We have a hard task to beat Shakhtar Donetsk [in a preliminary tie] but hopefully we can and after that I'd love to take on the challenge of Man United [in the Champions League]," he added.
"I'd love it. Not with anger or anything, but for the beauty of the game. And also to get the chance to thank the Manchester United fans in person because they have been great to me."