Mourinho lauds Eden Hazard talent
Jose Mourinho again reiterated his desire to keep Eden Hazard at Chelsea, after the Belgium midfielder turned in another man of the match display as the Blues won 2-0 at Hull.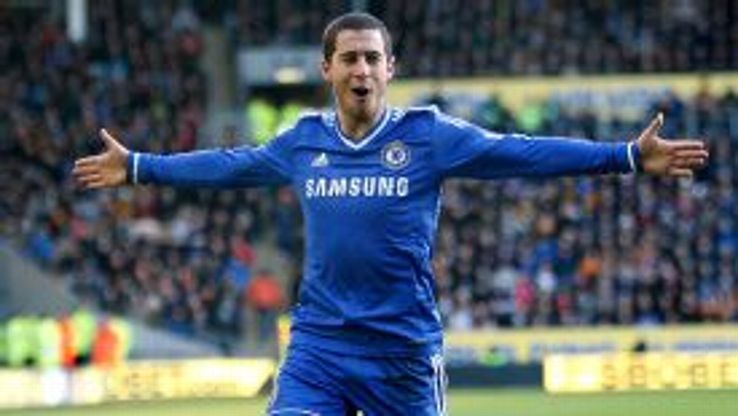 Hazard has been linked with a summer move to Paris Saint-Germain in recent days, but Mourinho has stressed he would not contemplate sanctioning the sale of the player and it was clear to see why after his latest match-winning display.
Chelsea were struggling to unlock the door against a stubborn Hull side until Hazard produced a fizzing finish after 56 minutes at the KC Stadium, as he continued his rich vein of form.
Hazard has now scored three times in his last five appearances for Chelsea, with Mourinho suggesting any talk that he may be set for a Stamford Bridge exit are wide of the mark.
"The club does not want to sell him, the club wants to keep him," Mourinho told BT Sport when asked about Hazard's future. "We want players like him, but I cannot put too much pressure on him to be the man of the match in every game, or the guy that opens the score.
"What I expect from him is this motivation, this commitment this desire he has shown. You saw last year a talented Hazard, but this season you are watching a much more mature player with much more responsibility and because of that, he is a fantastic player.
"His is getting man of the match regularly and probably deserves more than that. I see other guys getting [Premier League] Player of the Month, but they don't do half of what he is doing."
Hazard may be the man of the moment for Chelsea, but he was reminded by teammate Petr Cech that his current run of fine form needs to be maintained if he is to join the greats of the game.
"Eden can be one of the best if he continues to work hard," said Cech, who broke the Chelsea record for clean sheets with his latest shut-out. "He is playing fantastic at the moment, but you have to produce that season after season to be one of the best. Eden can do that."
The victory at Hull put Mourinho's men put them top of the Premier League, with the Chelsea manager suggesting his master plan is starting to click into place after a stuttering start to his second spell as Blues boss.
"It is better to be top than not to be top, but probably tomorrow or after that, we will not be any more," he added.
"The important thing is the team grows up and copes with this responsibility because they feel extra pressure in this game not to miss the chance to go top of the league and they coped well with that situation.
"I feel the team is improving, step by step. The older players are stable, the younger players are improving and you can feel an evolution. The team is compact, the team has a style of play relating to the characteristics of our players.
"Finally we have a series of victories and three away from home, so this is a good moment for us. My players can have two days off, Sunday and Monday. They deserve it."