Leicester title dream continues but Spurs pose nightmares for Arsenal
Let the rest of soccer-loving mankind revel in Leicester City's little-fox-who-could fairytale season. Me, I'm trying to stave off impending doom: For the first time since the Jurassic period, Spurs are looking down on Arsenal in the Premier League table, albeit purely on goal differential. Still, given that it's Spurs, the other North London club that has kept to its place (usually fifth or sixth) over the years, that's sufficient to send any Dennis Bergkamp jersey-wearing Gooner to the nearest pub even if they're only serving light beer.
To all of my so-called friends at New York's Football Factory, the ones who have been asking if I will be rooting against the Gunners next weekend so that the Feelgood Foxes can ensure that Tottenham make it 55 glorious years without winning the league, you can go to hell. Or at least to Brooklyn. Of course I want Arsenal to beat the Foxes -- even though Leicester will remain at the top of the table, as the three points have the potential to move (as God intended) the Gunners past Spurs. More importantly, I refuse to be a traitor to the childhood club of my father and Tim Sherwood.
Look, I admire what Claudio Ranieri's miracle workers have wrought this season; they've brought nothing short of a glorious reinvention in English football. They've shown that if you have enough desire, energy, confidence and support from most of the free world, coupled with the relentless goal-scoring menace of Jamie Vardy and the creative playmaking brilliance of Riyad Mahrez, you don't need a ludicrously bloated payroll to challenge for the title. It's one of those life-affirming moments in sport that makes the heart soar. Then I look at the table and realize that, wait a minute: why should I be pulling for Leicester when Arsenal are still in it despite their best efforts to stumble back to the familiar comfort of fourth place?
I have to admit that I never envisioned this kind of existential dilemma back on Dec. 28. Just six weeks ago, Arsenal climbed to the summit of the Premier League on the back of a 2-0 home victory over Bournemouth and peered down at Leicester, Manchester City and Spurs. But then the Gunners decided to push up their traditional February-March swoon to the start of the new year, winning only one of their five league games and not disturbing the scoreboard operator for the past 270 minutes. Which is why Sunday's corresponding fixture at Bournemouth's Vitality Stadium was much more relevant than I ever wanted, or needed, it to be. Though the game ended with an exact replica of the previous score 2-0 and with the same difference-maker in Mesut Ozil, the rest of the script has changed dramatically around them.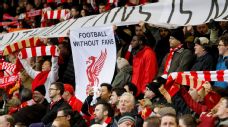 While the Gunners wobbled, two seismic events occurred. Leicester abandoned its bandwagon for a bullet train since the former couldn't hold every single soccer fan in the land save those who wear red or blue. That train continued to whoosh past the expectations of every bookmaker, pundit, fan (including their own), previous employer of Claudio Ranieri, Cambridge professors of deductive reasoning, the squirrels in Regents Park and anybody and anything who thought they were in touch with reality. By Sunday afternoon, after steamrollering Man City 3-1 at the funereal Etihad, they had opened up a five-point gap at the top of the table on Spurs and Arsenal -- not to mention six points on the Sky Blues, whose players gave a convincing demonstration of why Pep Guardiola has a tougher job than he thinks next season.
But the more worrisome cataclysm involved Spurs, playing steadily and stealthily below the hubbub of the Leicester mania, quietly gaining ground until they passed Arsenal in the standings last weekend and holding serve on Saturday with a 1-0 win over Watford at White Hart Lane.
My only encouragement was that for long stretches, Spurs appeared to be playing Wenger-ball, dominating possession but unable to finish their chances. Even the sainted Harry Kane (England's Great Pre-Vardy Goal-Scoring Hope) when put through with only current Watford and former Spurs keeper Heurelho Gomes between him and the back of the net, couldn't convert!
As the fruitless shot count mounted to 12-1 in favor of Spurs, I dared to hope that my most bitter rival had contracted Arsenal-itis. But it's safe to say that with the exception of Ranieri and his magic wand, no manager in the Prem has been more resourceful with his tactics and substitutions than Spurs's Mauricio Pochettino. On Saturday, the hyper-intense Argentine took a respite from his touchline gyrations to once again make the game-changing move when he yanked Dele Alli off his sick bed around the hour mark.
The 19-year-old sensation, whose wonder goal against Crystal Palace and all-around fearlessness have recently evoked nauseating comparisons to Juventus superstar Paul Pogba, had been held out of the starting lineup after being taken ill in midweek. But three minutes after he came on, the $8 million transfer from MK Dons showed why he will almost certainly be on the England plane to France this summer.
Collecting the ball from Mousa Dembele on the left flank, Alli played a defense-shredding, outside-of-the-boot pass across the goalmouth to Kieran Trippier, another of Pochettino's seemingly limitless supply of young English stalwarts from the lower divisions or from the club's academy. The ex-Burnley man picked a propitious moment to score his first goal for the Lily (-livered) whites, one that kept Spurs ahead of Arsenal in the standings. Some days are more ulcer-inducing than others.
"They have everything needed to try to win the championship," admitted an admiring Quique Sanchez Flores afterwards while I frantically swallowed a fistful of Tums. If there is any justice in the world -- and Diego Costa scoring the equalizer at the death to give Chelsea a draw with Manchester United proves there's not much -- the Watford manager's words will not come to fruition and Man City will remind Spurs of their place in the pecking order in next Sunday's other big showdown.
As for the Gunners and the Foxes, well it's worth noting that Arsenal have already brought Leicester thudding back to earth once this season. The Gunners ended the Foxes' opening six-game unbeaten run with a 5-2 thrashing at King Power Stadium. It was a game that saw the venomous revival of Alexis Sanchez, whose first hat-trick for the Gunners exorcised the mental and physical fatigue that had dogged him from a summer spent winning Copa America. With the Chilean enduring another barren spell after returning from injury, I can only pray that the scent of the Foxes will re-ignite his goal-scoring mojo and Arsenal will keep its record intact of not losing to Leicester in a league match since November 1994.
Now if Man City can just focus on doing its civic duty against Spurs and not get distracted by the spirit of Senor Pep hovering above their future paychecks, then Valentine Sunday could be quite the Gooner-loving fest indeed.
David Hirshey is an ESPN FC columnist. He has been covering soccer for more than 30 years and written about it for The New York Times and Deadspin.