Chelsea vs. Man United five questions: Hazard's role, Van Gaal's tactics, more
Their respective seasons mean Sunday's clash between Chelsea and Manchester United isn't as decisive in the title race as it once was, but Nick Miller still previews the game through the medium of five key questions.
1. Which Manchester United will turn up?
We have seen this before only for Manchester United to revert to type, but their 3-0 win over Stoke City, a side that thoroughly outclassed them at the nadir of their form just after Christmas, on Tuesday will have provided some hope that there are brighter and more entertaining times ahead.
It wasn't just that United won so comfortably but that they played in a freer, more liberated manner -- at the moment, it's all their fans can reasonably hope for. Wayne Rooney is in the midst of an impressive scoring streak (seven in his past seven starts across all competitions), the presence of Juan Mata seems to give a good balance between Louis van Gaal's control obsession and providing a team that people actually want to watch, and Anthony Martial got his first goal in a month.
"We've got more freedom and we've got a lot of energy in the team," Jesse Lingard said after the win. "To entertain the crowd we'll have to do that, but with that freedom we have, this win is a weight off our shoulders and we can just play football now."
Is this the start of a new, vital United who will play like this for the rest of the season? Or is it a bright spot in an otherwise oppressive blanket of gloom? Perhaps we shall see on Sunday.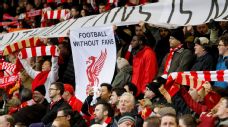 2. Will Eden Hazard get to play?
Has there ever been a more precipitous decline in a player from one season to the next? Hazard spent the first weeks of January out injured, but he hasn't exactly been hurried back into the team, something you might expect for the reigning player of the year. He started against MK Dons in the FA Cup but not at Watford in the league on Wednesday, coming on as a substitute and hardly playing like the supreme talent we know him to be.
Guus Hiddink's favoured set-up certainly seems to be a solid midfield base of Nemanja Matic and John Obi Mikel with Cesc Fabregas in front of them. Given that both Oscar and Willian are in much better form than Hazard, it doesn't leave a great deal of room for the Belgian.
"We are being careful with Eden Hazard because we have a lot of games coming up," Hiddink said after the draw with Watford. "For him it's important to go step by step." This is undoubtedly true, but at the moment Chelsea look like a better team when he's absent. It's a remarkable state of affairs, but Sunday's game will probably see Hazard on the bench in what has traditionally been one of the biggest fixtures of the Premier League season.
3. How will United keep track of Cesc Fabregas?
The more mischievous might well make a connection between the departure of Jose Mourinho from Chelsea and the rediscovery of Cesc Fabregas's vim. There's nothing to suggest the two are relative but what is clear is that Fabregas is playing as well as he has in a year, running things against Arsenal last weekend and generally looking more like, well, Cesc Fabregas. It might be a temptation for Van Gaal to deploy Marouane Fellaini as a midfield destroyer again and it's easy to see why he might think that would work, but Fellaini is so limited in the other facets of midfield play that his inclusion might solve one problem but create several others.
Van Gaal seems curiously unconvinced by Morgan Schneiderlin -- the Frenchman is no means an automatic choice for his first team -- but playing him alongside Michael Carrick ought to provide a better balance for the United midfield, in both stopping Fabregas (assuming he again plays in that No.10 role) and offering some attacking impetus.
4. Could Pato be a decisive factor?
The recruitment of Alexandre Pato looks like a relatively low-risk gamble for Chelsea. He's there only until the end of the season and his parent club, Sao Paulo, are desperate to rid his wages from their books. If things work out, the Blues get a reasonably cheap and talented forward; if it doesn't, they can just send him back from whence he came. In any case, Chelsea aren't going to do anything of much significance in the Premier League this season so even from that perspective, Pato isn't a particularly big risk.
It's doubtful Pato will start on Sunday but he could provide a handy option off the bench. Looking at their substitutes against Watford, it's something they could sorely use. Pato is a bit of a wild card for the Premier League because nobody really knows what to expect from this former boy wonder who has lost his way. These games are usually tight and all about control -- seven of the past eight encounters have been draws or wins by the odd goal -- so having someone for whom United might not be able to prepare could be extremely valuable for Hiddink.
5. Will both teams go for the jugular early on?
Anyone who has been to a game at Old Trafford recently will tell you that the oft-repeated statistic of just one first-half goal there in 12 games before the win versus Stoke was a self-perpetuating problem. United wouldn't score, the crowd and the players would become more anxious, which would make scoring more difficult, and so on and so forth. Two goals in the opening 45 minutes on Tuesday seemed to calm things down rather nicely, as Van Gaal noted after the game.
"Michael Carrick said to me what a difference a first-half goal makes because you play with much more confidence and you can do much more," he said. "I believe that was the difference. We scored two goals in the first half and it was an easier game than I expected."
Obviously this game isn't at Old Trafford this weekend but the same theory applies. Given that Van Gaal has been shown what a relaxing impact an early deadlock-breaker has on his team, it would not be a surprise if they attack Chelsea from the very earliest stages.
Similarly, Chelsea will be aware that United have a relatively fragile bubble of confidence around them, something that could either be reinforced or broken should they concede early on. The opening stages could be pretty entertaining on Sunday.
Nick Miller is a writer for ESPN FC, covering Premier League and European football. Follow him on Twitter @NickMiller79.