Leicester and Man City follow different paths toward Premier League title
Go back seven months to the time when the fixture list was announced. The first weekend in February always seemed to stage a potential title decider. Chelsea against Manchester United looked rich with intrigue; would Louis van Gaal take the crown from his protégé, Jose Mourinho? Manchester City's meeting with Leicester City, on the other hand, could have been branded as a clash of possible champions with a team on its way to the Championship. Except it is not.
This particular tale of two clubs named City has shown greater similarities than expected. They are neighbours in the table but have taken very different paths towards the top. One is a road less travelled, that of a team who finished 14th the previous season and were widely tipped for demotion. The other is a more familiar route of a now annual challenge.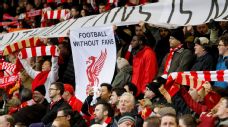 Though both of their campaigns contain considerable idiosyncrasies, in one respect Leicester conform to a long-established method: They are officially the hardest team to beat in England. Manchester City are more erratic. They lost five games by Christmas, something no side has done when going on to become champions since Everton in 1986-87. Leicester have had the consistency, both in terms of results -- their total of two league defeats is the fewest -- and selection.
In that respect, theirs is an old-fashioned formula, while Manchester City's a more recent phenomenon. One title push is based on a starting XI, another on a squad. Leicester have five ever-presents in the top flight: Kasper Schmeichel, Wes Morgan, N'Golo Kante, Marc Albrighton and Jamie Vardy. Two more, in Riyad Mahrez and Robert Huth, have only missed one game. Danny Drinkwater and Shinji Okazaki have only sat out two. The other City have only got four men with at least 22 league appearances: Joe Hart, Bacary Sagna, Yaya Toure and Jesus Navas. None are automatic and only the goalkeeper and vice-captain contribute to the spine of the side.
But continuity is in part a consequence of circumstances. Injuries have been a constant at the Etihad Stadium and a rarity in the East Midlands. A demanding workload is both a factor and a difference. Leicester can concentrate on one competition and only have 14 games left this season, while Manchester City are in four and could have up to 28. Perhaps that explains why Leicester can adopt a high-energy approach whereas Manchester City play in fits and spurts.
Each title challenge has also been propelled by a prolific striker and a productive winger. Vardy has 18 goals and three assists in the Premier League, Sergio Aguero 13 and two. Mahrez has scored 13 and made nine respectively, compared to Kevin de Bruyne's five and nine.
If there are similarities in some numbers, there is a vast difference in others. Aguero, at £38 million, was Manchester City's record signing. That mantle has now passed to the £54 million De Bruyne. In contrast, Vardy and Mahrez were acquired for just £1.45 million combined.
One of the most extraordinary elements of Leicester's rise is that astute as their acquisitions have been, they have been hardly propelled upwards by expensive incomings. Their business over the past two transfer windows has amounted to less than Manchester City's third biggest buy last summer, Nicolas Otamendi. Leicester's flagship signing seemed to be Gokhan Inler, who arrived with plenty of pedigree and the best part of 100 caps for Switzerland, but he has only started three league games. Given Leicester's progress while he has been strapped to the bench, the midfielder has not been a failure as much as an irrelevance.
Manchester City, meanwhile, spent the best part of £160 million last summer. That largesse enabled them to land their premier targets whereas one of Leicester's, Jordan Veretout, turned them down for an Aston Villa side who may prove among the worst-ever in the Premier League.
After the biggest spending spree in English history, Manchester City were spectators in the January window. Leicester bought in January without securing the sort of marquee signing (Loic Remy, M'Baye Niang, Ahmed Musa) that often spearheads a title charge. Their probable starting 11 for Saturday's clash costs around £18 million -- or one-third of De Bruyne. In contrast, relegation-threatened Newcastle could field an 11 that set them back around £80 million.
Leicester have acquired market leaders for bargain prices. They have the men with the most goals (Vardy), interceptions and tackles (both Kante) in the division. If possessing the best in their particular field is a staple of title challenges, other aspects are rather less orthodox.
Teams in contention are the top are often built from the back. Manchester City's started with the most solid of foundations, not conceding a goal in their first five games. Leicester, in contrast, did not keep a clean sheet in their first nine games. Their salvation came in the form of spirit and firepower.
Both sides could argue they have demonstrated the credentials of champions with their ability to mount comebacks. The alternative explanation is that they have benefited from brinkmanship. Leicester have come from two goals down to win points three times already this season. Manchester City have two 90th-minute winners this season, plus others in the 89th and 84th minutes.
Late goals were a feature of Man City's previous title wins, too, most notably the 2012 triumph clinched by Aguero's 94th-minute decider on the final day. Leicester, of course, have never won the English top flight. There has not been a new champion since Nottingham Forest in 1978 and until this year, it appeared there never would be again. When Manchester City entered the big club cartel in 2012, it was their third triumph, and like Blackburn and Chelsea's previous entries into the ranks of the elite, it was achieved with the help of generous funding. Leicester have had no such advantage.
The lack of investment explains their owners' persuasive offer to their manager last summer. Claudio Ranieri was told Leicester wanted him to stay, even in the event of relegation. Manuel Pellegrini is leaving Man City even if he wins two titles in three years. His club have an available upgrade in the shape of Pep Guardiola. Winning the title would not change their history or identity that much. It would transform Leicester's.
Richard Jolly covers the Premier League and Champions League for ESPN FC. Twitter: @RichJolly.