Arsenal and Leicester handle pressure differently as title race heats up
A few weeks ago, with Arsenal sitting atop the Premier League and looking like the title was theirs to lose, it was tempting to conclude things had changed at the Emirates; they had eradicated all the old failings that had held them back for years and years. You could see the virtue in only signing one player in the summer in Petr Cech, albeit a very good one who filled a positional hole that has been gaping for some years.
Perhaps it was better to keep the faith with those already there. Maybe the improving Olivier Giroud was the world-class centre-forward they need.
Now, all that has changed. A miserable few weeks in the league has seen Arsenal pick up three points from a possible 12 and not score in their last three matches, the latest being a profligate 0-0 draw against Southampton on Tuesday, and in turn has exposed all the old failings: the injuries to key players scuppering the team, the lack of a genuinely brilliant goalscorer, the mental fragility.
Arsenal are only five points off the top of the league in one of the most unpredictable seasons in years with 14 games remaining and no one truly dominant side in the division; on the face of things, the panic stations might seem rather premature. But it's the feeling that this is all just part of the pattern -- this is what Arsene Wenger's Arsenal are now -- that is causing the most severe doubts. The familiarity of their past few games is telling. Is this just history repeating itself? At this point it would seem to be dereliction of duty not to point out that Tuesday was Groundhog Day.
Arsenal have three more points than they did at the same stage this season but fewer than their average after 24 games over the last 10 years. Arsenal haven't really changed -- everything else has.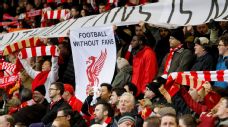 It's always possible to read too much into the emotional reaction of a manager after a disappointing result but Wenger's apparent instinct to blame referee Lee Mason on Tuesday, as he did in the tunnel after the game, seemed to expose his mindset. This was a game in which there seemed to be the standard number of questionable refereeing decisions without a major one that would materially impact on the game, and Ronald Koeman was quite correct when he commented that it wasn't the referee's fault Arsenal couldn't convert one of their many chances.
This is not only Arsenal's best chance to win the title in years, but it might be their best opportunity to win it for a few seasons to come, too. Next season, Pep Guardiola (and presumably a new collection of players) will be arriving at Manchester City while Chelsea should sort themselves out in the summer. Jurgen Klopp will have some more time to install his methods and perhaps bring the players he wants to Liverpool, Tottenham are a coming force and it's an outside shot but Leicester might stick around -- hell, Manchester United could even sort themselves out by August. It's perfectly possible that this will realistically be Wenger's last true chance of winning the league, and while he was a little more measured in his post-match press conference, he reacted like he knew that on Tuesday.
We've seen Arsenal wilt under this sort of pressure before but that was generally when they merely had a chance to win the title, rather than it being theirs to lose. It looked like they were in charge at the start of January, with due deference to Manchester City and with due deference to Leicester City, too.
Leicester are benefitting from the opposite situation to Arsenal, in terms of pressure. All their goals have been met already, with everything beyond that a bonus and all of this might seem like a particularly lucid dream that they're afraid to wake up from. Sure, if they win the title it will be an utterly extraordinary achievement, the likes of which we haven't seen in England since 1978 when newly-promoted Nottingham Forest toppled a dominant Liverpool team to win the old First Division. If they fall away, it won't be a heroic calamity, merely a disappointment -- a massive disappointment, presumably, but a disappointment nonetheless.
Thus, to a certain extent Leicester have been able to play free from expectation, despite their status as genuine title challengers having been in place for some months. Everyone has been waiting for Leicester to fall away, to revert to the mean and for the more "natural" order of English football to return, but they haven't yet so there's little logical reason to think it will from this point.
The pressure will naturally increase as the prospect of success looms ever closer, but at least some pressure has been in place for a while and it doesn't seem to be affecting them. Watch the way they played in the 2-0 defeat of Liverpool on Tuesday, particularly their decisive taking of chances and the extraordinary burst of one-touch, rapid passing in the build-up to a declined penalty appeal by Shinji Okazaki. It was not a sequence of play typical of a team struggling under the weight of pressure. Compare that with Arsenal, a side of whom much more is expected -- and even demanded.
Arsenal fading away and Leicester staying at the top of the Premier League are, respectively, the most and the least predictable things about this season. Given the season so far, it seems rather appropriate.
Nick Miller is a writer for ESPN FC, covering Premier League and European football. Follow him on Twitter @NickMiller79.