Will Alexis Sanchez play and help Arsenal ace Chelsea test?
ESPN FC contributor Nick Miller poses five crucial questions ahead of the Premier League match of the weekend between Arsenal and Chelsea.
Sunday features a game between the league leaders and the side in 14th place, but of course Arsenal vs. Chelsea is much more significant than that.
1. Will Arsene Wenger risk Alexis Sanchez?
Arsenal haven't done too badly without their most dangerous attacker in the last couple of months. Alexis Sanchez pulled up lame in their 1-1 draw with Norwich back in November, but they've since played 10 games in all competitions, losing only one. That defeat was the aberration against Southampton, a result so curious that you wonder whether even the presence of the Chilean would have done them much good. They've also managed a handy 19 goals in that time, so all in all they haven't missed Sanchez excessively. However, Arsene Wenger will presumably be itching to get his man back into the team, and suggested this week that Sanchez, along with Mesut Ozil who missed their draw against Stoke because of a foot injury, could be available for Sunday's game.
"The good news is that Ozil certainly will be available," Wenger said. "For Sanchez, the next two days will be decisive though, this time, I think he will make it for selection."
The trouble is, when Wenger says something like "I think" in relation to injuries, Arsenal fans would be forgiven for getting rather nervous. Arsenal's problems with injuries haven't abated despite their position at the top of the table, and while they have done OK without Sanchez, they won't want to be without him again for an extended spell, which is a danger if he's rushed back into the first team before he's ready. One might think this is a game worth rushing him back for, but let's not forget this is a home fixture against the team 14th in the table. "I'm cautious with him because we cannot afford a setback, which would mean a very long period out," Wenger said. "We don't want to take this risk. But the signs he's shown in training this week are positive." Wenger might be well-advised to save his man for when he's 100 percent fit.

Arsenal

Chelsea
Game Details
2. How will Arsenal's defenders handle Diego Costa?
Costa is usually an entertaining presence on a football pitch, a vaudevillian villain who hams up his antics like the most flamboyant thespian to rile his opponents. The last time these two sides met, the Arsenal defenders fell for his act hook, line and sinker. Gabriel, in particular, became so enraged by the Spain forward's cartoonish behaviour that he got himself sent off for (admittedly very mild) retaliation.
Costa hasn't quite reached those heights of provocation since, but you can bet he'll be trying the same at the Emirates on Sunday. "We have to focus on our own performance and forget a little bit about Diego Costa," Wenger said this week. "But we have to be prepared for a battle because Costa gives you a fight. After that, it's down to the referee." Any attempts to place the emphasis on the referee are understandable from the Arsenal boss, but Costa will still try to wind up his opponents as much as possible. Their task is not to fall for it this time.
3. Who is a win more important for?
You can look at Chelsea's record since Guus Hiddink took over as interim manager a couple of ways. One way is to note that they haven't lost since the Dutchman took control, whereas another is to say they've won only two of their six league games and one of those was against Sunderland.
Hiddink has been quite careful to note that relegation is a live possibility for Chelsea, and while the idea might seem implausible, even after the season Chelsea have endured, it's still worth noting that they are only four points off the relegation zone. Their opponents sit at the top of the table ahead of the weekend. One could argue that the breathing room between Chelsea and the bottom three that a win would provide is more valuable than the extra three points Arsenal would gain at the top of the league.
4. Is this a true test of Arsenal's mental fortitude?
It is, essentially, Arsenal's title to throw away. All of the traditional challengers are too inconsistent, Leicester will probably revert to the mean at some point soon, and the likes of Tottenham are not quite ready. This position as virtual champions in waiting could well be down to a new mental strength, finally arrived after Wenger has been talking about it for years and years. But it could also just be that they're better than the rest of a mediocre division.
Sunday's match could prove a test of the theory. For while much was made of Jose Mourinho's psychological hold over Wenger (the Frenchman has still never beaten the Portuguese in a competitive match), Arsenal's record against Chelsea is not good even without his influence. Since Roman Abramovich arrived in 2003, these two teams have played each other 31 times competitively. Arsenal have won on only six occasions, and three of those were the first trio of encounters when Claudio Ranieri was still trying to work out how to fit a suddenly thrown together collection of expensive trinkets into a team.
The mental block is not just to do with Mourinho, so therefore a victory for Arsenal on Sunday could be a sign that they really do have what it takes between the ears to win the title.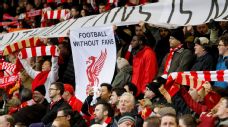 5. Will Arsenal attack from the outset?
With that in mind, it's possible that Arsenal will take a lesson from arguably their most impressive performance (or, at least, 45 minutes) of the season, when they blitzed Manchester United in October, scored three early goals and had the game won by the 20-minute mark. Even though Hiddink's tactics are not generally as 'pragmatic' as Wenger's, Chelsea will in all likelihood play a counterattacking game, trying to keep things solid at the back early on and attempting to pick Arsenal off as they grow frustrated. Against United, Wenger showed that sort of approach can be negated with some ruthless early attacking, so it will be interesting to see if he adopts the same strategy for this game.
Nick Miller is a writer for ESPN FC, covering Premier League and European football. Follow him on Twitter @NickMiller79.