Arsenal primed for revenge over Chelsea as Wenger targets title boost
Arsenal boss Arsene Wenger tried a subtle psychological trick on Thursday. It was designed to alleviate the mounting mental pressure on his players ahead of Sunday's visit of Chelsea.
Wenger had repeatedly been asked in his prematch news conference about whether the fixture represents another "mental hurdle" to overcome. Every question amplified the magnitude of the match in the club's season.
But Wenger went another way, playing it down as just "another game."
Such an approach could help his players stay focused on the job at hand because it's difficult to deny this is a different Arsenal-Chelsea game -- and one that could finally have a different result, in two senses.
Most pointedly, Jose Mourinho is not present for the first time in three years. Given that the Portuguese has never been beaten by Wenger in a competitive game, it finally gives Arsenal a long-awaited chance to beat Chelsea too. This bad record, after all, goes back further than Mourinho -- a couple of months before him, in fact.

Arsenal

Chelsea
Game Details
Since Wayne Bridge's brilliant winner in the 87th-minute of Chelsea's 2-1 victory in the 2003-04 Champions League second leg quarterfinal, Arsenal have only won four competitive games between the two clubs. It is a remarkably lopsided record for two clubs so close in status and quality. Many around the clubs put it down to the ripples from that game. In "Highbury: A History of Arsenal in N5," author Jon Spurling acknowledges: "You couldn't disguise the significance of that night."
An Arsenal win on Sunday could be just as significant, if in the other direction. It could also be hugely important in the title race.
Arsenal can still get enough points to win the league even if they don't beat Chelsea. It's just that winning this match would give such a lift and potentially propel them further forward at a point when things tend to get tougher. What better way to show you can win the league than by finally winning a game that has proven beyond you for so long? A mental weight would be lifted. A team could be released. They would certainly be emboldened, just by eliminating one other doubt that has dogged them for so long.
There are many historical precedents of teams who won the big trophy after beating the side that had blocked them for so long. Manchester United went through it with Juventus in the Champions League in the late 1990's. Manchester City went through it with United on the way to the Premier League title in 2011-12, after suffering so many late defeats to their neighbours.
The evidence suggests Arsenal have had a complex about Chelsea for the past 11 years. It is not just that they've lost so frequently to them, it's that they've lost in so many different ways, from last-minute strikes to outright thrashings.
Sources say that some among the Chelsea squad felt they had a mental edge over Arsenal. September's game seemed the perfect example. Even though the defending champions were in such dismal form, they still contrived a way to beat Wenger's side -- with the way in which Diego Costa so controversially got Gabriel sent off summing up so many of the dynamics between the two teams.
Nigel Winterburn scored one of the most famous Arsenal winners against Chelsea in Wenger's era, hitting an 88th-minute strike in a September 1997 3-2 win, and recognises the need for the home side to keep concentration.
"What's happened with Arsenal, particularly away from home, is that they seem to have got players sent off," Winterburn said to ESPN FC. "It's important from Arsenal's point of view, they need to be really disciplined. I think they'll know Chelsea have been tactically very good against them. They've been quite aggressive.
"So it will be very interesting to see whether that will happen this weekend or whether Arsenal will be able to assert their authority in the way they did particularly against Manchester United, and then for some period against Manchester City at home."
This thinking explains Wenger's prematch attitude. This match represents a huge opportunity for Arsenal and if that plays on the squad's mind too much, they may overcompensate and go overboard. It's happened countless times to teams, and not just Arsenal.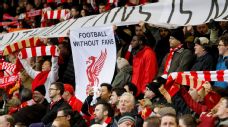 "Arsenal have to put all that behind them," Winterburn said of the recent history. "They've got to focus on the position they're in. Chelsea are languishing well down the league, which is very, very surprising, but they have the players that can still hurt you. I think, from Arsenal's point of view, they probably have to believe they're going to face a Chelsea team that are vulnerable."
Wenger acknowledges that, initially, everyone will be looking for Arsenal's vulnerabilities.
"It's another game where people look at us and see how we behave," he said.
It could, however, be a game that changes everyone's thinking.
Miguel Delaney covers the Premier League and Champions League for ESPN FC. Twitter: @MiguelDelaney.