Premier League's fixation on attack shouldn't be mistaken for excellence
As he looked down from his box at Anfield last Wednesday, Rafael Benitez would have had to resist the urge to tut. Watching Liverpool and Arsenal stage one of those faintly chaotic, faintly comic Premier League specials might have been thrilling theatre for the neutral, but for a manager to whom control is king, it must have been torture.
Both sides came out swinging, less sweet science and more sustained slugfest, each of them landing punch after punch on the other's glass jaw. High in the stands, Benitez surely was saddened by the realisation that the rumour was true: Nobody in the Premier League can really defend anymore.
Even his old nemesis, Jose Mourinho (with whom he has rather more in common than either would admit) has been swept away by the relentless tide. The type of football they both espouse has fallen from fashion, replaced by cries of attack, attack, attack and the insatiable demand to be entertained.
Defence-first football survives in pockets, but wherever it does exist, it is demeaned. Tony Pulis at West Bromwich Albion: He's more direct than Benitez or Mourinho and nowhere near their style but still a man to whom solidity comes first. He has spent much of the season aware of the whispers of discontent at the Hawthorns that this is not what West Brom have come to expect. He is doing what he was hired to do -- make them safe and secure -- but that is no longer enough.
Louis van Gaal is also derided for the torpor he has induced at Manchester United. Watching them, it is hard not to agree with his legion of critics -- when they are good, they are boring; when they are bad, they are wretched -- and almost impossible not to sympathise with those supporters who crave something, anything to cheer, something to get the pulse racing.
At the same time, there is that one discordant note that says it is not that long (only two or three years, really) since conventional wisdom had it that what teams needed was more patience, more probing and more possession. It is one thing to criticise the way his side are putting that approach into action but quite another, as so many have done, to point the finger of blame at the approach itself.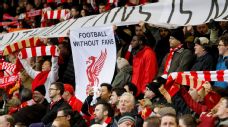 This has happened before in England. Many times, in fact. Football is always susceptible to the vagaries of fashion. Anyone over the age of 30 will remember the mid-1990s, when everyone suddenly decided they had seen the future -- and the future was 3-5-2. A flooded midfield, wing-backs roaring forward, elegant central defenders -- colossi, like Newcastle's Philippe Albert -- carrying the ball out of defence. It lasted 18 months.
This doesn't just apply to tactical systems: Fashion can dictate the way teams conceptualise the whole game. Whether to go short or long, whether to sit back and wait or whether to seize the initiative, whether to take risks or whether to play it safe: It all depends on what is en vogue.
There is one period, though, that is especially worth considering when assessing the glorious mayhem that the Premier League has become. During the few seasons after World War II, anything that wasn't all-out attack was considered tantamount to treason; as the striker Nat Lofthouse once said, nobody "paid to watch tactics."
The driving forces back then were very different to those now, of course. In that postwar era, the move toward spectacle was driven by a sense of release after the privations of war, the desire to maximise gate receipts for clubs struggling back to their feet and, most of all, by the lessons learned from the War Leagues, the competitions held between sides to entertain the public during the war.
Those games attracted huge crowds keen not only to see the special guest stars playing for unfamiliar sides -- Manchester United players featuring for Arsenal XIs; Aldershot calling on famous names, thanks to their connection with the local army base -- and because they emphasised entertainment. Correlation was taken for causation; when the war ended and the leagues returned, it was assumed fans wanted to see nothing but attack, attack, attack.
The modern motivation is different in the detail but less so in the principle. It was interesting to note Herbert Hainer, chief executive of adidas, last week said that Manchester United's style of play was not ideal from their point of view; it is impossible to prove empirically, but it is hardly far-fetched to suggest that clubs need to play good football in order to attract and sustain as many fans (potential customers, in their eyes) across the world.
All of those lucrative commercial deals rely not just on the reflected glory of trophies but on a less tangible appeal too. Brands want to be associated with something attractive -- something aspirational and enjoyable. More importantly, that is what fans want to see. Entertainment is why people tune in overnight in Asia and in the wee small hours in the United States. The more people watch, the more advertisers are prepared to pay; the more advertisers are prepared to pay, the more valuable the television rights. If everyone attacks, everyone wins.
Is there a downside to any of this? Is there some trap that English football is blundering into as it grows, distracted by an inexorable search for goals?
It was dangerous after the war. England willingly fell into the trap of thinking that football everyone wanted to watch -- as proved by those bumper crowds -- was the best type of football there was. It turned out it wasn't. The national team was humiliated at the Brazil World Cup just a couple of years after one of their finest ever performances, a 4-0 win against Italy in Italy. Over the course of seven months in 1953 and 1954, the Hungarians proved quite how far England had fallen, winning 6-3 at Wembley and then 7-1 in Budapest. As the English had been racing forwards trying to be as exciting as possible, the rest of the world had put its foot on the ball and thought about what to do.
Things are not so serious now, of course. A more modern equivalent might be English teams struggling to make any impact on the Champions League of late, returning to those days in the late 1990s when domestic form simply could not be translated on to the European stage.
Football's glory is the tension inherent within it. Is what matters the result, whether you win or lose, or is it how you go about it? There is no answer to that question; it's a matter of personal preference, a discussion as to whether you derive more pleasure from the journey or the destination. Benitez, like Mourinho, has his own answer, as will you. All that history teaches us is that excitement should not be mistaken for excellence.
Rory Smith is a columnist for ESPN FC and The Times. Follow him on Twitter @RorySmithTimes.