Man United steal 1-0 win at Liverpool thanks to Wayne Rooney's record goal
Three points from Man United's 1-0 win at Liverpool, a game that the hosts dominated without reward ...
1. Man United steal a win at Anfield
Sunday's clash was hardly a game to rank alongside the rich history of this fixture, but at the very least, Wayne Rooney showed his best moments are not consigned to the past just yet.
His excellent and opportunistic 78th-minute finish gave Manchester United a largely undeserved win, although the victory owed just as much to the resilience of David De Gea, who pulled off a series of strong saves. The Spaniard once again showed he is possibly the best player in the team in what was a hugely underwhelming game.
At the same time, despite being the better team, Liverpool didn't exactly create many first-rate chances and flattered to deceive rather than properly forcing United back.

Liverpool

Manchester United
Game Details
The otherwise impressive Roberto Firmino should have put Liverpool 1-0 up after 11 minutes, dragging his effort wide after De Gea struggled with an Adam Lallana effort. The Brazilian was much more accurate with a divine pass for James Milner moments later, but the English midfielder lacked the technique to volley it first time, squandering the opportunity.
Mamadou Sakho had perhaps the best chance of the game from a second-half set piece, but he failed to show the ruthlessness of Rooney. On 78 minutes, Marouane Fellaini finally decided to stop getting involved in off-the-ball incidents to try to play some football, heading the ball off the crossbar. Simon Mignolet was caught flat-footed on the rebound and Rooney simply lashed the ball into the roof of the net.
It was a much-needed bit of life to the game as United also restored some energy to their season. The nature of the display means the questions about Louis van Gaal's future won't go away, but not for the first time in his time at United, his side just about got away with it.
2. Liverpool again fail to take advantage
It was a display to sum up Liverpool's season and fully reflect where they are with Jurgen Klopp. There was a fair bit of encouragement to be gleaned from Sunday's performance, but they are very far from the finished article, and the gaps in the side were just wide enough for Rooney to finish off.
That is the big frustration with Liverpool, not to mention the fact they had the better of the game. Lucas Leiva and James Milner gave them a strong footing and ensured the home side were superior in terms of actual play, but for all the chances they created, there were very few in which you would have thought they should have scored.
They still don't have anything like the attacking energy Klopp would demand from his sides; it seems he doesn't have the type of attackers he would favour, either. What does it say about Christian Benteke that he didn't start? The German just doesn't seem to fancy him for this system, but the real problem is that Liverpool don't have much beyond the Belgian.
Lallana almost personifies this issue: He does something nice and vaguely threatening but nothing to properly punish the opposition. Compounding matters was the same old haplessness at the back. Klopp needs at least three new players to properly begin making this his team, rather than one that just looks a little like one of his teams.
3. Man United saved by individuals
Despite a performance in which Manchester United looked like they were going through the motions and lurching toward the end of a managerial regime, they ultimately won because one individual at either end maintained their sharpness: De Gea and Rooney.
The goalkeeper stood strong for a series of Liverpool chances, while the striker reacted quickest in the box to hit the key strike. Beyond that, it's genuinely difficult to know how they won.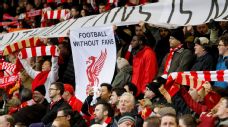 It was a poor collective performance saved by individual brilliance. United were bested in midfield, second to many balls and generally meek in attack. It took them until the 55th minute to even muster a chance of note, as Anthony Martial shot narrowly wide. Van Gaal is now a year and a half into the job and should have the team closer to his ideal, but if this is it, there's a real worry. Yet despite that, they still come away with three points.
The wonder is how long this can persist. Going back to last season, there was a sense of Van Gaal always just about getting away with it. They have never really kicked on from the performance at this same stadium last season, when they beat Liverpool 2-0. The big question is whether that is sustainable or will eventually level out because the spark of the goal aside, this was a very flat performance.
Miguel Delaney covers the Premier League and Champions League for ESPN FC. Twitter: @MiguelDelaney.